Block #1 for the summer project is ready and done! The first 6 beastmen of the Hooves and Fur warband are done.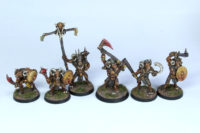 I finished the shields in a very worn down look, gave the long fur / hair a final highlight with Army Painter Necrotic Flesh WP1108 and added flock to the bases, with Army Painter Battlefields Steppengrass.
I am quite happy with the result and I am looking forward to do more. I am still amazed how well this worked out and how motivating it was to paint and see the result. It is quite the jump between base colours and first highlights, because it was such a long break from painting for me, that it took a bit to have a vision where I would end up.
Technically the bannermen is missing its banner, but that is something I'll figure out later, as I don't want to simply put on a paper banner that looks rushed.
I really feel like I'm in the "zone" and I want to take this over to block #2, which I can start on right away and with quite some tailwind, as I have almost 2 weeks of on top for that one.
Enjoy this article?