Another throwback! 10 Years ago, I went for my first trip to Salute and it was not just any Salute, it was their 40th anniversary.
This was during my time as editor-in-chief for a large German wargaming portal, and to cover all (or at least most) of the novelties, we put it in our schedule to fly to London, take a lot of pictures, talk to a lot of people and arrange for some review material to cover in the upcoming months.
Most of the shows I participated until then where local conventions, held in community centres or similar and the largest was the Crisis 2011 in Antwerp or Action 2011 in Rheindahlen at the British Army HQ. And people already told me, wait until you see Salute, it's huge! I knew the South London Warlords from their elaborate participation tables on other shows and was eager to find out for myself.
I just finished my bachelor degree and the portal was more or less covering the operational costs, so buying two tickets to London caused a bit of hit on my wallet. But Christian did a great job as my "deputy" editor-in-chief and it was the proper thing to do, to value his support. But we did what we could to keep costs low and flew to London and back in a single day. That meant, wake up at 4:00 am, getting to the airport at 5:00 am, departure in Frankfurt at 6:55 am. The sight on the Thames from the plane was impressive, but the weather was quite British when we arrived around 7:30 am (CET) at Heathrow.
Side-note: If you're going to visit Salute, which is held at the ExCeL (Exhibition Centre London) pretty much in the centre of London, looking for a flight to London City Airport (LCY) is much more expensive compared to the flights to the other London Airports, and for proximity I suggest flying to Stansted and taking either a rental or the Stansted Express to the city.
With our connection via Heathrow, we had a proper 1,5 hour ride across London until we arrived at the venue. But some people we saw on our way, clearly shared our destination. And it was quite impressive to be at a proper exhibition centre, especially one as large as ExCeL.
The queue in front of the show was rather long, but went through quickly due to the well co-ordinated stewards. And the hall was crowded. Never seen that many people at a wargames only show. At SPIEL in Essen and such for sure, but not at an event exclusively for tabletop wargames.
We had our schedule planned precisely (we're Germans you know), and in addition to meet up again with some of the people we met during our Leadbelt trip in 2010, we were eager to meet up with some new faces, that we've only been in touch with via e-mail back then. Like Warren Johnston from Beasts of War (now OnTabletop) and the legendary Mike McVey - do I really need to introduce the man? "Founder" of the 'Eavy Metal Team and the man who would team up with Cool Mini or Not, to launch only a year after the show the most successful tabletop crowdfunding campaign back in the day. Nobody expected Sedition Wars to almost hit a 7-digit sum.
Familiar faces at Warlord Games. A packed booth and the recently released, new world war 2 game Bolt Action was introduced with a demo table.
Warlord Games bought the old Bolt Action world war 2 range from Paul Hicks and supplied it with a rule set of its own along with new plastics - which was quite the big deal back then. We saw 3-ups of the Soviet Infantry and green stuff sculpted US American Rangers, based on the old US Infantry kit, along with plastics for other Warlord systems like Hail Caesar Caesarian Romans or troops for Black Powder.
We saw an early Deus Vult preview. Another rule set written by Alessio Cavatore (the other one was above mentioned Bolt Action together with Rick Priestley), who gave us later that year at Crisis in Antwerp a deeper insight into the game. Provided by the italian game studio Fireforge Games, who invested in plastic kits as well and introduced several cavalry sets and gave a first preview on their infantry. But the range was small back then, so they filled up the ranks in their demo game with Perry Miniatures crusaders (former Normans).
I only saw Forge World at Games Days back then. As usual - at least back in the day - they had some previews of upcoming kits with them, for example the Stormbird and Strike Fighters in 28mm, with some Warhammer Forge items, like the Colossal Squig or now out of production Basilisk.
You could buy the show exclusive there, which I did. And they parted with their Warhammer Historical stock. Warhammer Historical used to be their own division, producing rule sets for historical settings. A bit of a "side hustle" by some of the Games Workshop designers, but shortly after their change of management towards Forge World, they pulled the plug. So you could buy the rules for 5 GBP each, and even the vignettes. Which I obviously did.
And of course, Perry Miniatures were there as well. Very busy booth, lots of people waiting to get their hands on the latest novelties and have a brief chat with the twins. We saw the recently released and painted up mounted Men at Arms, along with the greens for the 8th Army / Desert Rats and Afrikakorps, who were released quite a while after that (Renedra is packed and even the Perrys have limited ressources).
So beside the vast variety of manufacturers and traders - from all over the world, yes, all over the world, there were some people who came all the way from Australia to sell their stock there, was the broad choice of demo and participation tables.
Of course, the gaming clubs show their projects and such, with lots of creativity. But usually that is bound to some established rule sets or settings. It was amazing for me to see, the crazyness, the artistic liberty, that went into some of the tables and setups.
I was honoured to meet Oshiro himself, a legend from the Lead Adventure forum, who offers beside terrain some commissioned pieces, and supplied multiple tables with it. The first one that caught my eye was The Battle of Komagane. A land battle outside the small town of Komagane pitting the Clans of Sanada, Honda, Miyoshi and Matsudaira together for control of the valley pass, during the Sengoku Period. Not something you would see - or expect - in continental europe at a show.
The second table, supported by Oshiro as well was this Martian Victorian Sci-Fi scenario Assault on New Victoria, with flying steam vessels and wild conversions. Do you recognise the parts on the spider mech in the middle? James / Oshiro continued his tale on the adventures on Mars in his project log on Lead Adventure. Highly recommended.
And to stay with the steampunk / dieselpunk / victorian sci-fi, what really left an impression was this table by the Ilford Wargames Group. They had their own 1:1200th scale game, set in the Georgian Sci-Fi, using lots of the old Spartan Games Uncharted Seas and Dystopian Wars range (picked up again by Warcradle Studios). I really loved, how they build their own game, with a lot of creativity and conversions, just for the fun of it. They took a huge prussian dreadnought and glued it ontop of a second one to build this impressive steamdriven sky-vessel.
Around 5:00 pm, we headed back to the airport. Enough time to grab something to eat and to reflect on the day. What a day it was! Talked with a lot of people, I filled my Feldherr Messenger bag (which was great for that kind of trip and left the custom department at the airport a bit baffled what was going on...). Landing was around 10:40 pm back in Frankfurt, with me having to drive back to Koblenz, allowing me to call it a day around 1 am in the morning, the next day. It was an impressive experience and I knew, that I would be back - it just took me four years to do so. You can see my coverage on the shows of Salute 2016 (again as a one day trip) and Salute 2018 (as part of Operation Sealion 2018) here.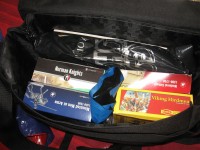 Salute had to take a break in 2020, post-poned their date in 2021 from the regular April (as a good counter to the autumn/winter Crisis) to November. And while the show in 2021 happened, the 2022 show was postponed to 2023, for the great 50th anniversary - impressive for a wargaming event. And even with Brexit you have a customs clearance of 430 EUR. That should be enough to cover some Salute shopping.
Enjoy this article?