In August I have written about my anniversary in "professional" wargaming, and during my time as editor-in-chief I visited a lot of shows and convention, and we did some tours to meet with some of the manufacturers. Our first large tour of that kind was exactly 10 years ago (well in the night from the 14th to the 15th), towards the lead belt.
For those of you not familiar with that term, the lead belt describes the greater Nottingham area / Midlands, as due to Games Workshop sitting there, a lot of other tabletop companies were founded in the surrounding area - many by former Games Workshop employees.
As we were already in touch with the bigger companies for coverage, news and such, we arranged a couple of meetings in and around Nottingham and booked our stay in a hotel in Nottingham (Jury's Inn, proper stay, can only recommend). When I say we, it was Christian/Darkover (my former second-in-command), his wife Sarah, and two friends of mine from the local wargaming club; Andre (the albanian national coach, more on that later) and Lukas (my flatmate from my student days).
As the blog didn't create noteworthy revenue and I was still a student back then, the allowance for that week was okay, but far from being able to do more than pay for a round of pints for the crew. Besides, we're Germans, this was a business trip, we were there to take care of network and create content for our portal and not for fun ... well, somewhere in between. To be more flexible and as not everything would be reachable with the public transport within Nottingham, we decided to go there by car. Flying to Nottingham is usually done via Birmingham or East Midland, not really a problem from where I live (Cologne, Frankfurt and Frankfurt/Hahn are all within an hour), but the tickets, the limited luggage on a plane and the additional need for a rental car big enough to carry all five of us, was just out of budget. So Christian offered to drive with his Golf station wagon.
From Koblenz, my former hometown, to Nottingham it is roughly 900 km. So quite a ride for a day. Lukas and Andre came around after work on Tuesday the 14th, we had a proper meal and talked about what we wanted to see, what would be an interesting projects and so on. Joking if a station wagon would even be sufficient for all the bounty or we should have rented a van. Around 22:30 Christian and his wife picked us up, and we headed through Belgium towards Calais a little later. We arrived at 5 a.m. at the ferry, and managed to get through to Nottingham in the late morning (around 10 a.m.). We did a brief check-in and fresh up at the Hotel (yeah, that's necessary after so many hours in a car, especially with 3 people on the back row). The others took the chance for a nap, but I used the free time to head for a stroll, drop by both stadiums in Nottingham (Forest's City Ground and County's Meadow Lane).
We didn't have a programm item for that day (well it was cancelled, more on that below), simply arrival. This was 2010, so roaming was quite expensive and wifi in hotels not that common. But we decided to head over to Warhammer World for dinner.
Warhammer World already offered free Wi-Fi back then and had proper facilities and dining options (Bugmans Bar is used by the employees as a canteen and pub after hours), so is a great place to stay for a while. We tried to get in touch with Games Workshop UK beforehand as we did with the other manufacturers, but that was the Kirby era and not really that easy. At first we had a confirmed date for an Interview with Jervis Johnson, that was then cancelled, we tried to re-arrange that but it went nowhere. They did not do the community management they offer today, along with having a shareholders meeting that week and prior to that an international sales meet-up, I can partially understand, but the way they handled things left much room for improvement. Anyhow, we were in Nottingham, Bugmans Bar is open, so we went there anyway.
Lukas and Andre used the gaming facilites to have some rounds of 40k, with their Chaos and Oldhammer Space Marine army. The mentioned shareholder meeting was the reason, why there were only very few gaming tables, so don't be irritated. And yes, that is the old setup of the Warhammer World, prior to the redesign, including the new store front and Forge World shop.
And our persistence would pay out. As we met Jes Goodwin by chance. He was just having a break, so we only talked shortly. But heasked us to wait for him and afterwork he came back to Bugman and we had a great chat. Especially after it was clear to him, that we weren't trying to shake him for some teasers, rumour confirmation or some nonsense point- or price discussion it was a great talk and couple of drinks. It is fun to meet someone with that much passion about what he does, and so was meeting him years later at Warhammer Fest in 2018. We talked about his career, how he came to Games Workshop and we got some signed post cards in the end.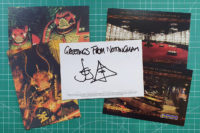 As we had a couple of interesting days ahead, we called it a day and just went up to the Citadel Miniatures hall, to browse through the - already back then - nostalgia filled cabins of Oldhammer and the world that was.
Some of the vignettes are still around till today, as for example the Bretonnian Jousting tournament. Of course, a lot more square bases back then, but no large displays or battle scenes, as they were rearranging that whole exhibition area. (See for comparison the 1999 visit, 2004 visit and 2018 visit).
Proper first day. Travel went quite smooth and it didn't take that big of toll, to be fair we were quite young back then. Alternatives to get to Nottingham would be grabbing a rental from London, as we did during our Salute tour 2018, or as in or 2004 trip (which was by ferry via Kingston-upon-Hill towards Scotland, but we did a detour over Nottingham). Rental cars are quite cheap in the UK, especially compared to Germany, you could either get on at the airport or in Nottingham central (right next to the train station).
As for accommodation, Jury's Inn was a good choice. We had a three-bed room and a double room at a decent rate, and that was okay for that student-budget. During the other tours I stayed at the Britannia Hotel (very british, but okay and very central) or our latest stay (this time as a family with a young child) in January was at the Holiday Inn, in walking distance to Warhammer World, but rather far from the city centre.
It is a bit crazy to see, how often I have been in Nottingham. Especially as it is almost 1.000 km away. But the following days will show, why it was worth the visits.
Enjoy this article?