Finally I can start with the summer project of the TabletopWelt board and paint my army of Hades! Although I'm not sure yet if this is a good or a bad thing, because, as I already mentioned a few times, I have to paint 18 miniatures in three months, which I usually don't even manage in a year.
So there's this bunch of skeletons and I have to commit to the first of three blocks. I think it will be best to start with the archers, because they also contain the most non-metallic colors - the arrows, the quiver and the bow.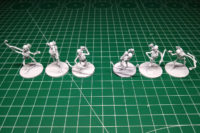 Since I know myself, it will be difficult to paint complete blocks at once, I'll split the first block into two smaller chunks - the one with the more static archers and the one with the more dynamic poses.
I'll also adjust the size of the articles a little bit to be able to give you more frequent updates on the project, so that you can observe the development process instead of just slapping the finished block in front of your feet.
I hope you'll stay on the case for the next three months. If I should finish sooner, I will of course add one or the other unit to the project, or make the skeletons a little more colorful.
Greetings from the Chaosbunker
Dino
Enjoy this article?