This week the summer project on TabletopWelt began, and we participate with 4 projects. Mostly because Dino motivated us to do so. Even I managed to get some paint on my beastmen, but only a bit, as my week was quite packed, more on that later.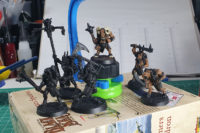 Dino registered his Mortal Gods projects for the summer project, Swarley went with BlitzBowl and Gregor with Azande!
On Wednesday HANS! arrived at my door step, and I found some quite interesting bits and pieces that I kept (left picture) and put some other items back in there in exchange (right picture).
I had thursday and friday off, but was bound with some non-hobby related tasks. And on the weekend we started our large scale terrain project. Preparing our property for the next steps, by removing the small tree farm of my father in law.
Beside that I am preparing the next reviews, among others the Warhammer Fantasy variant of Munchkin and Black Seas, and I'll squeeze a Bolt Action vehicle review in there (which I hadn't done for a while). And hopefully some painting of the beastmen.
As I was travelling by train on thursday, I had some time to catch up on my movie backlog. I watched a bit of The Hollow Crown, British television film adaptations of William Shakespeare's history plays. I saw pictures from it beforehand, but wasn't aware beforehand that it would be Shakespearean english, which takes a bit of a toll from non-native speakers. The production value and casting is quite impressive, great inspiration for projects like War of the Roses or non-canon Game of Thrones.
And I finally came around to see 1917, which reminded me a bit of Saving Private Ryan as you stay very close to a small group of actors, and due to the linearity / "single-take", to the some world war video games Medal of Honour from the late 90s / early 00's.
Robot Chicken returned this week with their crazy nonsense, highly recommended.
That's it for today. Stay safe. If you want to know what I am up to during the week, drop by later or follow me on Instagram.
Enjoy this article?