CONflict Rheinland returns for the weekend of May 12th to 14th, once again as an internal affair. And I was there for the third time, after last year's show and the last public one in 2019. And with it being held in Langenfeld, just north of Leverkusen, it is a one-hour drive for me and much quicker than that for the people joining in from the Ruhrarea or Cologne.
And obviously, we can't cover an event, without covering the parking lot first. Lots of space right in front of the venue.
Finally - an update in the event category! Conflict Rheinland returns after a 3 years break with a private event, and 2019 was our last visit to the event in Langenfeld. Yet, the return is a bit special, as this is not a public event, as they had to cancel that format about a month ago and went for an invite only meet up of some of the hosts and clubs, that would just do a private get-together.
Torsten kindly invited me to join that round of wargamers and I happily accepted the invitation as it would be my first wargaming event in over a two years (my last wargaming road trip was January 2020 to Nottingham, visiting Warhammer World).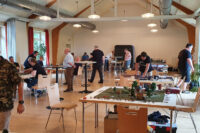 Today and tomorrow the CONflict Rheinland (Rhineland) will be held in Langenfeld near Leverkusen, between Cologne and Dusseldorf. As such it was a short and straight trip for me, 5 minutes to the Autobahn, 1 hour on it (just the A3, no changes...) and roughly 5 minutes to get from the exit to the venue.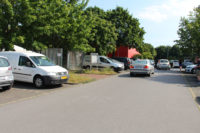 The venue is the marksmen's club house St. Sebastianus Reusrath. Tickets are 5 EUR for a single day ticket and 8 EUR for both. Parking is free and available plenty right in front of the venue. As a club house, it has a bar counter, where drinks and snacks are available and as a marksmen's club house, it has a small shooting range, that was repurposed as an additional gaming area.