Depending on how you count, giving this game a try is years in the making. I've stumbled across Spectre Operations in 2016, when I saw the booth on Salute in London, and covered their miniature range in review the same year. But the rules or setting really caught my eye, on Crisis a year later, in 2017, when I saw the gaming table build by Ivan / ThreadHeadz on Lead Adventure and recognised it at the show.
And I kept an eye on modern combat scenarios on the blog as well over the years, painting up German Marines, collecting some die cast vehicles along with a civilian car pool, and securing some US Marines. So, I stopped at these tables, when I came across them at the shows, like Tactica, CONflict Rheinland, but due to limited time or already running games, I never had the chance to give the ruleset a go. Yet, in the mean time I grabbed the 1st edition ruleset from the bring & buy at Crisis 2019.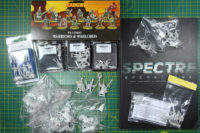 Most recently on the "internal" CONflict Rhineland 2 months ago, I saw Torsten and Ivan having a blast with this setup. But once again, limited time on my side only made it possible for me to squeeze in a game and a half at the event.
So when Rhein Main Multiversum was announced and it was clear, that it would be an open game weekend, I asked to join participation games for two systems and one of the was Spectre Operations and Torsten was kind enough to host the game. Ulrich would join me in this game and we were given the option to either play against each other or have coop mission.
We played on the same table from CONflict with some modifications to the setup (Torsten keeps everything modular and removeable to accommodate a variant of scenarios). There was a road block in the middle of the table by a local militia and insurgents, and our two Special Forces teams of local trained forces under the guidance of a private military company Black Paladin had the objective to reach the other side of the table and leave the city. Ulrich would play the larger Alpha Squad and I'd take over the smaller Delta Squad, each going for a different route along the table.
Spectre Operations uses D6 (where you usually have to roll over a certain treshold, after you modified the roll with the circumstances), covers a lot of different gear giving you all kind of bonuses and options, but most importantly, you can interact with almost everyone and everything. So, all these scatter terrain pieces and NPCs on the table, aren't just thematic fitting blockers for your line of sight - no. You can interact with them, and this is surely something that differentiates this rule set from a lot of others.
With the information of being able to interact with our surroundings, we made our plans and went for it in the first turn. It is important to point out, that initiative and being aware of the area you're fighting in is very important to this game. For example, things might happen, but if you are rushed by them or simply can't see them (as your miniatures have a 90° field of view and not 360° or 180°, tactical movement incl. securing your back is important). And while Ulrich moved along his table edge, after telling a woman to get back into her house to avoid any danger, I went further into the back alley to inspect a van standing there.
After opening the van, releasing the parking brake, three members of my squad would push the van into the road, while the rest of the squad would secure the parameter. My idea was to have the van crash into the barrier and be able to move behind the van towards the wall of the scrap yard and exit the table from there. Why would I go for such an attempt?
Well, there are heavily armed troops supported by improvised armed trucks on the road and an open conflict would surely cause some unnecessary losses on my side. Distracted by the van pulling out into the street, the attention of most troops was towards the east end of the table, giving Ulrich the chance to move further towards the mission objective.
And before we gave the Insurgents a chance to realise, what was going on, we took out a few of them. On my side, one came too close to the squad and was eliminated. But Ulrich really handed it out, and covered the armed vehicles and soldiers standing outside with bullets, taking out the crew of the heavy gun on the flat bed along with some commanders of the Insurgents, dropping moral and especially tactical oversight of the enemy forces noticeably.
But as I said above, you can interact with a lot of the items on the table and they interact with you as well. For example, the civilians stopped at the road block were losing their cool while the first shots were fired, almost running over another insurgent's commander and binding the attention of the militia closer to them as towards our two special forces units.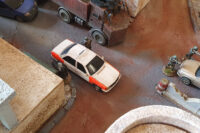 And while I tried to get closer to the wall, hiding behind the cars, I got caught in suppression fire and one of my guys was heavily wounded, slowing me down and binding me in this position, as I didn't want him to bleed out. Along with having a bit of bad luck on the random encounter table, with having a vehicle enter via one of the roads. And with my luck, it was my side - just in the back of my unit. But it didn't stop there, it was a hefty high roll, so it wasn't just a truck or BMP tank, but a proper main battle tank.
But where there is light (for the Insurgents / militia), there is shadow. It arrived on the table, but didn't have the initiative and neither a functioning main gun (we're not talking about a proper army here, but some captured vehicles of questionable quality).
Ulrich managed to reach the table edge on his side at the end of his turn. In the meantime, the second commander of the militia was killed, leaving them without a leader and only green troops rushing towards the building roofs. I had the problem that I with a heavily wounded soldier, crossing the wall wouldn't be an option, so I quickly commandeered the Trabant, throwing my wounded soldier on the cargo bed, with the others filling in the front seats or sitting on the back of the cargo bed - but not without firing my LAW at the tank and actually demobilizing it before I was able to drive away, leaving the table on the opposite site.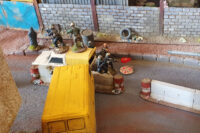 It was an intense and very entertaining participation game. It works incredibly well, if hosted and captures the asymmetrical warfare in a proper and playable way. And Torsten even showed us an alternative route, that would have been an option for either a mission objective to disappear or for us to leave the table - via a tunnel system.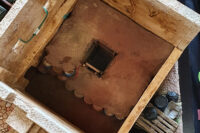 I assume that it can be a bit tricky to catch this game if you are on your own / never played it before. It surely helps, if you're introduced to it and maybe leave a few of the very realistic rules aside for the beginning. For example, you could keep track of the ammunition that you used in a very detailed way, which would be for campaign / narrative games very important, as you would have to loot or acquire supply drops and calculate that into your tactics.
The field of view is an interesting aspect, as it makes orientation more important and is something that surely makes sense for this kind of game but gives you an additional element, especially for NPCs or units controlled by the game master / host. Just think of the Commandos video game series. If you take a look at this ruleset, as a frame work and use it to your likings and adapt it to the settings you play, it is incredibly powerful. Especially with the interaction and tactical movement. Of course, you can stay with modern combat and do anything you've seen on Homeland, Narcos and such. You're surely aren't bound to just cover missions around the middle east, but could do all kinds of operations all over the globe, from extractions or rescue missions to seek & destroy. But most important, this doesn't need to be 2000s post 9/11 SpecOps, it can be a lot more. Torsten told me about Ivan's setup for Vietnam that he prepares for Tactica in October, for example. One of my first thoughts was something along The Great Escape, having a few captured soldiers flee from a prisoner camp, but with all the gear and options, it would make for a great Shadowrun tabletop as well.
So many options, this is surely not the last time that I'll play a round of Spectre: Operations. Thanks again to Torsten for hosting the game.
The rules are available in english by Spectre Miniatures for 28 GBP.
Enjoy this article?