Spectre Miniatures is a british manufacturer, that covers modern combat miniatures in 28mm scale. Had them on my radar for quite some time and used the chance at Salute 2016 to get myself the Tier 1 set along with some show offers.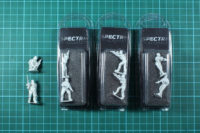 For this review I have on my table the three sets Alpha, Beta and Charlie from the Tier 1 Operators, as well as the female sniper and russian juggernaut.The sets were 5 pound each, and the single miniatures 3 pound each.
Miniatures are one piece and have low amount of mold lines. So straight forward and in no time ready to based.
Spectre Miniatures keeps their range in 28mm true scale, no clumsy, overdrawn heads. Currently it covers several Operators, US and russian armed / special forces, militia and even two resin SUV. I have a few 1:43 / 1:55 cars, that match pretty good. I was inspired by the latest season of Homeland and thought of a small german special force, with a ML class and two G class / Wolf. As you see, they fit pretty good.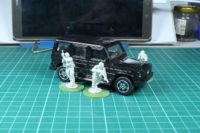 As for the scale, like already mentioned, we are looking at 28mm true scale, so they fit with a couple of modern ranges, like River Horse Terminator range, newer Hasslefree and Lead Adventure. Most likely it will fit with the modern combat Empress range as well, but i didn't have those around to take a picture.
Conclusion
Spectre expands their range at a solid pace, adding Nomad operators recently along with their own set of rules for a flexible and fast skirmisher. The miniatures are properly sculpted and casted, and reasonably priced. They even offer free shipping for orders over 40 GBP within EU and over 60 GBP for RoW.
Spectre Operations, the rule set, is going to be released on september 21st and is 20 GBP. Alternatively you can use these miniatures for the rules of Black Ops (Osprey) or Force on Force (Ambush Alley Games). The range is broad enough for a few small forces, that will suit both games.
Link: Spectre Miniatures
Enjoy this article?