In May we had another wargaming event, and I was at CONflict Rheinland, and I can't wait for the next event - which might not be earlier than August with BOYL (yes, we booked our flights). But as I said, had a great time at Langenfeld, met new people and played some games.
I didn't arrive empty handed, as I painted up some scatter terrain for Florian's Frostgrave table and printed some give away treasure chests for the participants.
Florian brought some loot from Salute 50th, I'm really into event miniatures and got a pair of dice on top, and he picked up some 3mm buildings for Black Seas, from Brigade Models scenery range.
And I picked up some loot at the CONflict, two dice bags from Wraiths Crypt, the Barons War promo miniatures from our demo game by TTC Rhein-Main, and a pose of a Eldar weapon team, that I was missing.
I stocked up on some Adeptus Titanicus supplies, buying the reprint of the different cards and will repurpose content from the Ashes of Faith for my Legio Magna.
Finally the remaining boxes from my Lord of the Rings order arrived, so I can pick up on that Gondor terrain build after I'm through with Leviathan.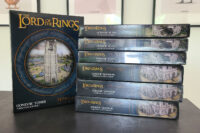 And as we further progressed through our outside facilities, completing the terrace, I finally had the chance to order my grill - a Burnhard, with all the important options.
Among the novelties at Partizan was this old west wagon by Great Escape Games, and I can't wait to get my hands on this kit - multiple times for some proper scatter terrain.
I took the chance to pickup a second Lightcraft lamp. These have gone up significantly in price, since I bought the first one (from around 100 EUR to 165 EUR) and are rather hard to come by. But they increase the amount of light I have available for my pictures by a lot.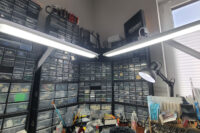 And of course, you can't do May without the 4th / Force, so I picked up the 75347 TIE Bomber, which is quite the sturdy build. Love the scale of these kits, already have the majority from that range and are currently eyeballing the TIE Interceptor combi kit. Just not at RRP.
What's planned for June? Coverage on the Leviathan release, planning participation of some gaming events in autumn, and get some painting and terrain building sessions in with some of my pals.
Enjoy this article?