There is always something refreshing about this month, as it is a common tradition in western regions to pull a prank at the beginning of the month. Accordingly, I also tempted Bunker Boss Dennis to post an April Fool's joke on the Chaosbunker.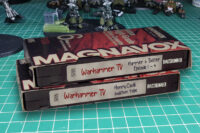 In our persiflage, we've taken the mickey out of a few topics that have recently found their way into the hobby in a lesser good way, but that's a topic for a whole series of articles. For now, let's just say that sometimes it helps to laugh a little!
The third plastic kit from the initial Stargrave release are the SG003 Mercenaries. Probably the most colourful from the trio, and certainly worth a look. So, let's upon up this box.
Where the Troopers are the uniform wearing military force of a corporation or government, these mercenaries are coming along still as veterans of their trade, but a lot more specialised and unique. You get troops in once again heavy armour, but with more humanoid (and less humanoid) variation in terms of face and a wilder mix of their gear / weaponry.
The next two plastic kits for Stargrave after the crew are far more combat orientated, and we cover the SG002. To be honest, if you wouldn't know about Stargrave being a skirmish with role-play elements, you'd assume this is a generic Sci-Fi soldier kit.
The Troopers for Stargrave are an 28mm scaled multi-part plastic kit and has a RRP of 20 GBP for 20 miniatures. This kit is compatible with the other Stargrave kits of the Crew and Mercenaries. And its content is spread across four sprues of five miniatures each, along with two additional sprues covering the 25mm round bases.
As Stargrave was supported right away with three different plastic kits, there is no real "first" one - but we have to start somewhere, so we grab the Crew kit as it has the product number 001.
We have a 28mm scaled science-fiction kit, covering a total of 20 multi-part hard plastic miniatures for a RRP of 20 GBP. That goes for all of the three initial kits, the crew, the mercenaries and the troopers. The crew is the "core" of most warbands, not just armed up troops, but actually people who make up the crew of spaceship - thus the name.
The Crew box covers 4 sprues of 5 miniatures each, along with two stripes of 20 flat 25mm diameter round bases. Casting is properly done and on the same high level that you get from the Renedra, Plastic Soldier Miniatures or Warlord Games kits. Proper use of the available space, so you have a lot of options for the five bodies to add to, lots of heads, different arms and gear.
From the gifted mind of Joseph A. McCullough comes another skirmish ruleset at Osprey Games - Stargrave. The sci-fi variant of the very successful Frostgrave was launched mid-2021 and gathered more than 115.000 GBP with its initial campaign.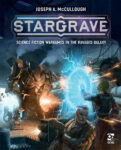 The very broad pledges of the crowdfunding campaign supplied the new game right away with a hardcover rulebook of 176 pages (25 GBP RRP) with a lovely layout and a whooping three different plastic kits (which we will cover in the coming days) supported by a variety of metal miniatures (we'll cover parts of these as well) to build your own crew of space-faring adventurers.
Managed to get some things going in June. Some new and final arrivals to my collection.
I am a huge fan of the work of Paul Hicks, and one of rarer miniatures (besides the event miniatures he sculpted) is this set of British Napoleonic soldiers, strongly influenced by Sean Bean in Sharpe. After looking for a trader in Europe and trying to get these second hand - but with no results for over almost a year, I decided to order directly with Brigade Games. Shipping wasn't cheap at 28 USD (for a total of ~50 USD worth of miniatures), but went incredibly fast, as these arrived within 10 days - incl. going through customs.
This isn't going to be some mass combat, but really a small skirmish setup around Sharpe's Rifles. So after looking at Osprey Games' Chosen Men, but putting that aside for it being far too large, as it is more like Saga at 40+ miniatures and not what I had in mind for the small battles, I went with Song of Drums & Shakos by Ganesha Games. Tabletop Stories has a review on the rule set. And if you're already there, give their Mecha-Spin off of What a tanker a go.
Kamoley, half a year has already passed! If the second half of the year is also coming up so fast, I really need to get busy to finish my Mortal Gods project this year.
Admittedly, this is difficult for me at the moment. No, that's not because of my motivation, in fact it's quite strong at the moment. However, my family's demand for time with dad is high right now, which is absolutely fine since I enjoy spending time with my kids very much, but the hobby therefore has to take a back seat for a while.
This is reflected in my painting output this month - three models have received a touch of color and perhaps this shows another reason for my poor progress - there are three models from three different systems. So the realization matures that you also need a certain discipline in the hobby and have to stick to one thing until you have at least one milestone completed.