I managed to get my hands on two sprues of the Skeleton Infantry for Oathmark in trade, and as I like the design of them, I thought I'd cover them in a review. So this is not going to cover a whole box, but only the sprue.
These add to an already extended range of Oathmark plastic kits, covering Elves, Dwarfs, Greenskins and Humans. And are out there on the market, along with a few other undeads made from plastic in 28mm:
Managed to get some things going in June. Some new and final arrivals to my collection.
I am a huge fan of the work of Paul Hicks, and one of rarer miniatures (besides the event miniatures he sculpted) is this set of British Napoleonic soldiers, strongly influenced by Sean Bean in Sharpe. After looking for a trader in Europe and trying to get these second hand - but with no results for over almost a year, I decided to order directly with Brigade Games. Shipping wasn't cheap at 28 USD (for a total of ~50 USD worth of miniatures), but went incredibly fast, as these arrived within 10 days - incl. going through customs.
This isn't going to be some mass combat, but really a small skirmish setup around Sharpe's Rifles. So after looking at Osprey Games' Chosen Men, but putting that aside for it being far too large, as it is more like Saga at 40+ miniatures and not what I had in mind for the small battles, I went with Song of Drums & Shakos by Ganesha Games. Tabletop Stories has a review on the rule set. And if you're already there, give their Mecha-Spin off of What a tanker a go.
After covering the infantry kits of Oathmark, today we have the opportunity to show the first cavalry set of the range - Goblin Wolf Riders. These were released only a few weeks ago.
If you're not familiar with Oathmark. It is a project by Osprey Games and Northstar Military Figures, with Renedra covering the casting. The full name is Oathmark - Battles of the Lost Age and it is going for a 28mm mass combat range, with rank & file regiments and a few characters. I haven't had the chance to look into the rules yet.
Another non-human boxed set for the Oathmark range is the Goblin Infantry. I've already covered the Elves and the Dwarves in the past, so if you want to take a look at them, click the links above.
The Oathmark - Battles of the Lost Age range is a project by Osprey Games and North Star Military Figures, with Renedra covering the casting. I didn't buy this kit nor did North Star gave it to me for review purposes, I traded it from the travelling box HANS!. That is the reason why the box is a bit beat up and the sprue of square bases is missing.
As promised, my personal loot from Crisis 2019.
Crisis Special Event Mini 2019
Warlords of Erehwhon Skeletons
Oathmark Goblin Infantry
Garstufts with snow
Basing snow
Frostgrave: Perilous Dark
Frostgrave Elementalists II
Six halflings from the Bring and Buy
Reaper Bones Mule
Five barrels for terrain
Sheriff Jimjohn from Shootout in Dingstown
In the second part of my Sword and Sorcery tale, I've taken on the dwarf. Somehow the model just wanted to be painted and in my head the picture of a grumpy looking, but otherwise in a good mood dwarf emerged. The pose had something stealthy with the slightly bent posture, which is why I tried to use as natural colours as possible.
Rekamark was not a very impressive city, but anyone who wanted to go to Felstadt found themselves at one of the last halfway civilized outposts of mankind before entering the ruins of the cursed city.

   "Rekamark," Balthasar said to his apprentice Achibald, thoughtfully folding his arms.

   "You will never find a more wretched hive of scum and villainy. We must be cautious...".
And with this little intro I would like to welcome you to the next ongoing project at the Chaosbunker. Okay, I know that there were already a few articles about Frostgrave and that I actually didn't want to start building a warband until 2020, but when I assembled and painted the first models, the enthusiasm got its grip on me. It just felt good to get back into a generic sword and sorcery fantasy setting and let my creativity run wild.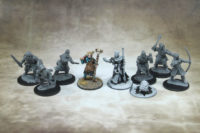 In May I participated in the latest "Stuffbox" from the Sweetwater Community, the one from TabletopWelt got lost by Hermes - great job guys! But a new box was packed and went on its way. And with an eye on the tracking I knew HANS! would arrive today. A brief ring on the door bell and a small lipped good morning by the postman confirmed that and the heavy load of the content.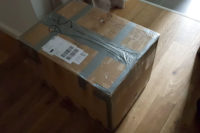 Further plastic kits were introduced for the new Oathmark - Battles of the Lost Age system by Osprey Games and North Star Miniatures, among them new Elven.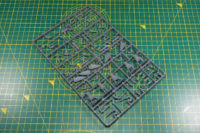 I was able to get my hands on a single sprue for this review, of which 6 are in the complete box with 30 Miniatures in 28mm scale. The price is set at 25 GBP. As you can see, each sprue contains options for spearmen, regular soldiers with hand weapon and shield or archers. And additional pieces for standard bearers and officers. In the box are 30 plastic 25mm square bases by Renedra as well.
A bit out of nowhere and unexpected, Osprey Games and North Star Military Figures announced a new range of fantasy plastic miniatures, under the label Oathmark - Battles of the Lost Age, beginning with a set of dwarven infantry. This range will be released later this year, but as a special for Salute 2017, there would be a pre-release of single sprues.
The sprues were sold at 5 GBP each, so I assume a later box price of 20 GBP for a box of 20 (similar to the Frostgrave plastic pricing). I was able to get a sprue at Salute, and want to share my impression with you in this brief review.