Damn, it happened again - I'm late! Well, I can't really complain, professionally things are going well, but I'm afraid I won't be able to keep my goal for the year. Sure, I'll keep trying, of course, but before I move on to the next project, namely Oathmark, I think I'll have to declare my annual goal as a milestone.
Speaking of which, Robert, a.k.a. Wolpertinger, with whom I've been doing regular painting sessions via Discord lately, converted an old river troll for my Oathmark army.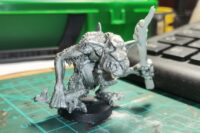 I've always liked the model and it fits really well as a single monster in mixed armies. The only thing I need before I give in to the temptation to paint it is a flatter 40mm base. I'll probably ask Sarissa Precision about that.
I also finished one of Sarissa's two fountains in October - but I have to admit that the result is quite different from what I actually wanted to achieve with it. However, the process of painting the terrain piece was such a wild ride, with the community contributing in a great way, that I will write another article about it this month.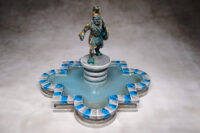 Actually, I must be glad that I got to paint something at all in October - a "low hanging fruit" were two models for my StarGrave crew. I want to stay true to the neo-retro style that the Northstar miniatures range has, so I take my time and paint a model here and there in my "standard color combination". Somehow a certain black and yellow pattern has become my trademark without me ever really intending on it.
By the way, I actually already painted these two for November, since Nick_Ryder started a little SciFi November on his channel and I quite like the theme for the month.
Budget
Unfortunately, I have also gone slightly overboard this month, which is all the more annoying because the water lilies from Noch, for 7.25 € proved to be a bad buy. Otherwise, I got modeling paste from Vallejo, for 5.30 € and water effect from AK Interactive for 16.43 €, all including shipping costs.
My budget in October:
Balance previous month: -0,85 €
October 2022 budget: 19,15 €
October 2022 spending: 28,98 €
October 2022 rest: - 9,83 €
Expenses for work materials:
October: 0 €
Balance until October 2022: 84,84 €
That leaves me with just €10.17 for November, but that's not too tragic since I'm mostly focused on finishing my Blood Bowl players for the milestone in November.
Greetings from the Chaosbunker
Dino
Enjoy this article?