November 5th, Saturday morning, 10 am - LARDwerp starts. I should be around2 pm that we arrive at the Tin Soldiers of Antwerp club house, in a northern suburb of Antwerp itself. And as you know from our event coverage, we start with a picture of the parking lot.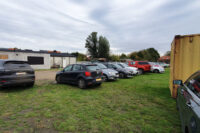 Properly filled with various gaming tables, the club house even covers a licensed bar, so beverages and food were secured. This is off for a good start!
Beside the gaming itself, various other wargaming related activities and opportunities were given. For example a paint setup, where you could chat and take a look on several different themes and scales of miniatures.
They even organised a small bring and buy, with miniatures, books and rule sets.
And before we cover the larger demo setups, a brief overview of different rules and games, as well as decoration of the Tin soldiers club house itself.
The biggest setup was a diorama in 1:35, right next to the entrance and just on the otherside of the Tabletopper.nl booth, covering a Arnheim setting between Germans and British armed forces, using King & Country miniatures.
As the TooFatLardies hosted LARDwerp, a lot of their own rulesets were shown. For example Chain of Command on this Holding Oosterbeek scenario in 28mm.
But the Lardies do more than just World War 2, so we could see on another 28mm table this demo game for Dux Britanniarum.
Another world war 2 setup, in 15mm scale showed I ain't been shot mum, wargame rules on company level.
Really nice setup was the Old West variant of What a Tanker - What a Cowboy, with a mix of self build terrain and MDF kits.
Thanks again towards the Tinsoldiers and the Lardies for offering this opportunity for a get together. With the last two years we had only so little chances for trips like these and I am happy that I went. Had some great chats at the event itself, but far too little time to try out all the systems. I'll try to get my hands on some of the rulesets and see, which of these I can introduce in upcoming reviews.
I hope you enjoy the pictures and that it won't be that long until the next event coverage.
Enjoy this article?