The month in which the tabletop activities normally decrease due to the good weather has also left its mark on me - but for other reasons. My new job is quite demanding and involves a lot of travel, so I didn't get to sit down at the painting table very often.
Instead, I used my increased travel activity and worked on my goal for the year, namely to keep in touch with the community and play a few games. I had the opportunity to visit two clubs in the vicinity of my customer and spent several times with the Bedburgers.
ACWF Aachener Tabletop Freunde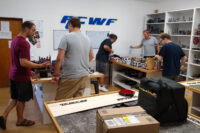 Bedburger TableTop Freunde e.V.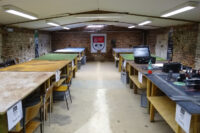 And Imprintium gave me some insight on 3D printing. So you see, I got around quite a bit in August. I also played a lot of Blitz Bowl with the Bedburgers. Of course I lost all the games, but it was still fun, and it made me finally start my Blood Bowl Community Team project. I will take my time with it, just like with the Maulers. So, in the course of the next few years, I'll write an article about it from time to time.
The "unperfect Season" - 0 victories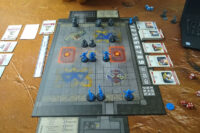 At the last minute, however, I still managed to paint something. On the Tabletopwelt forum the idea came up to play an Oathmark campaign weekend. Oathmark itself has some great features. It's small enough at 1500 points, the game size we decided on, to not run into painting overload, but large enough to still create the right regimental feel and a pleasant game speed.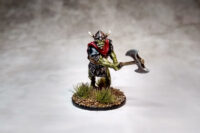 In addition, the right Sword and Sorcery flair comes up in the setting, which I already follow with Frostgrave. A good opportunity to paint minis across systems. You will be able to read a tutorial for the Goblin Champion tomorrow.
Budget Challenge
Although I mostly use old stuff for Oathmark (I have the reputation of being a big recycler anyway), I became weak in the course of the campaign. I wanted a catapult for my force of goblins and undead. Both factions can use it and the price was really unbeatable with just €15.-. So I treated myself to the Undead Catapult from Mantic for €16.89, including shipping, which is still within my budget for a single month.
My budget in August:
Balance previous month: 42,15- €
August 2022 budget: 62,15,- €
August 2022 spending: 16,89 €
August 2022 rest: 45,26 €
Expenses for work materials:
August: 0 €
Balance until August 2022: 84,84 €
Greetings from the Chaosbunker
Dino
Enjoy this article?