The gate of the protected knight's estate in Bedburg is as an entrance to a tabletop club in no way an exaggeration of what actually waits behind it. I had the pleasure to visit the Bedburger TableTop Freunde club in August and I can say right away that it was an absolute feast, both from a hobby and a social point of view!
"Want something to drink? It' s on the house!" is the friendly greeting of Dennis Abraham, the first chairman of the club, against whom I got to play a game of Blitz Bowl in the evening and with whom I talked a lot. Of course I was interested in the history of the club, because if you want to get to know the community in our hobby, you have to understand how it grew.
"We've been around since 2013, but we've only been registered as an association since 2016." Dennis recounts. Back then, they played once a month at his brother's house, and because the apartment was so big, they were able to put up three gaming tables at once - that's more than some small gaming clubs can offer in their early days.
In the meantime, the club has more than 20 gaming tables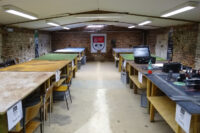 Since they did not want the financial burden to be shouldered by just one person, they came up with the idea of a "coffee fund" and a joint account that was to be used for exactly this purpose. This was the actual birth of the Bedburger TableTop Freunde. In 2016 they took the official step and registered as an association. At the beginning there were eight men, but today there are already more than 80(!) club members. The rapid growth in numbers prompted the club in 2017 to look for new rooms.
From modest beginnings on 50sqm, they became one of the largest tabletop clubs in Germany with over 200sqm of playing space on two floors.
Recently, also ground floor rooms have been gained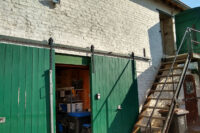 Particularly strong emphasis is placed on the social companionship that extends beyond the boundaries of the hobby - for example, the weekend following my visit was followed by a club barbecue, which was not focused around the hobby.
The fact that this communal idea is a strong draw for the club is also shown, for example, by managing director Andreas Holtum, who got to know the club through an ebay contact with Dennis, and whose friendly attitude persuaded him to join and get involved. The wide range of members also means that an equally wide range of games is offered. While they often host 40K tournaments,...
...all other games are played here with great passion as well, from Conquest to Blood Red Skies to Bolt Action and Infinity. As long as a fellow player can be found, there is room for every system.
Especially the Bolt Action offering is something to be justifiably proud of, being the host of international tournaments that attract participants from many countries, such as Spain and the U.K., to Bedburg.
In the future, it is also planned to rent the town hall in Erkelenz for a 40K event, in order to be able to offer up to 140 people a suitable venue for their battles. The whole thing will also be promoted in the neighboring countries, such as the Netherlands, Belgium and France, which also expands the field of participants by a few cultural nuances.
By the way, anyone who wants to try out Bolt Action tournament atmosphere for themselves can do so on September 24, at the German Open 2022. The club's focus on tournaments is purely to maintain the great facilities - because the participation fees, in addition to the club dues, finance the rent. By the way, the facilities are available to members 24/7, but there is also a regular "official" day every Thursday when you can drop in.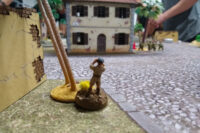 What makes me personally happy, I learned that even Mortal Gods is played here. Unfortunately, I have not managed to organize a game in time, otherwise I would have been able to contribute a batrep, but maybe it will work out on my next visit.
However, I had the chance to play a round of Blitz Bowl with Dennis and introduce him to the system. Since I had a few teams with me, Dennis chose the Nurgle roster and I chose Humans. This seemed to make sense to me, since I'm starting a Blood Bowl community project soon.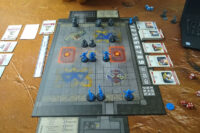 Of course I lost the match grandiosely with 17:10 - it was clear, somehow I lose most of my games, but it was fun. As a Ravens fan, I of course made sure that Dennis covered the logo of this strange other team in his victory pose...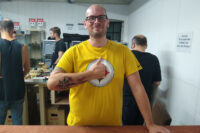 All in all, I spent a really great evening with the Bedburgers. Especially the cordial togetherness has remained very much in my memory. "The hobby should be as uncomplicated as possible and still remain affordable," says Dennis, who lives the club's work with heart and soul. He and the other Bedburger engage themselves with the Bedburger TableTop Freunde not for themselves, but for the community as a whole and want to reach as many people interested in the hobby as possible. That this attitude not only finds positive resonance with me is reflected in the area of influence of the members, who come from the entire area of North Rhine-Westphalia.
I for my part will try to take every opportunity to visit Bedburg again and keep you up to date when there is something exciting to report from the Bedburger TableTop Freunde e.V.. If you want to contact them yourself, you can do so via their website, Facebook presence or the Discord channel of the club.
Greetings from Bedburg
Dino
Enjoy this article?