Managed to get some things going in June. Some new and final arrivals to my collection.
I am a huge fan of the work of Paul Hicks, and one of rarer miniatures (besides the event miniatures he sculpted) is this set of British Napoleonic soldiers, strongly influenced by Sean Bean in Sharpe. After looking for a trader in Europe and trying to get these second hand - but with no results for over almost a year, I decided to order directly with Brigade Games. Shipping wasn't cheap at 28 USD (for a total of ~50 USD worth of miniatures), but went incredibly fast, as these arrived within 10 days - incl. going through customs.
This isn't going to be some mass combat, but really a small skirmish setup around Sharpe's Rifles. So after looking at Osprey Games' Chosen Men, but putting that aside for it being far too large, as it is more like Saga at 40+ miniatures and not what I had in mind for the small battles, I went with Song of Drums & Shakos by Ganesha Games. Tabletop Stories has a review on the rule set. And if you're already there, give their Mecha-Spin off of What a tanker a go.
For the other side, I split a box of FN260 French Elite by Perry Miniatures with Gregor that we bought at Radaddel. But sorry guys, no review on those, I'm just not deep enough in Napoleonics nor do I have the stock of miniatures for a proper comparison. And I have a few other things in the schedule.
The new White Dwarf arrived, with a few goodies. There's a traitor guardsmen poster in there along with a decal sheet for the White Dwarf's own Space Marine chapter. I'm going to use those decals for my Imperial Fists, as black tactical insignia comes in handy, along with the different other motives.
Beyond that, the issue covers an interesting view on older Warhammer World, to be honest, something I hope to see on Warhammer+. Beyond that the issue covered a quite interesting conversion for the Charadon Campaign and an impressive coverage on multiple Golden Demon winner and participant Mark Lifton.
I got a pre-release copy of the new Jagdtiger plastic kit by Warlord Games, supplied to me by Tabletoppern.nl. And inspired by the amazing series on the Jagdtiger and late war big cats by Nightshift, I spend a few bucks on a Zimmerit tool, just in case.
Biggest impact in June is the near completion of our house, and readiness for occupancy of my study, so I was able to bring in the first load of boxes and kits to my new studio. I keep a lot of the original packaging to store my projects and have a few unopened boxes for the ongoing oldhammer / middlehammer project, as I'd like to do one of my reviews on these kits.
To have access to my summer project stock, I put those miniatures aside and covered a kick-off article on the project on here as well.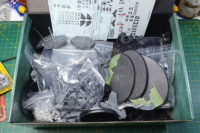 As a lot of my tools and items are currently boxed due to the move, I prepared a couple of articles to publish in the meantime, and to give you a small teaser on what you can expect for example for the reviews.
New movies are kind a limited to streaming only releases, but I managed to watch Judas and the Black Messiah. You can give it a try, I like the undercover story line, but think that The Departed is a better take on that topic. But gave me some new insights on the Black Panther topic, as that's not really something I am familiar with as an European.
I had a blast watching Clarkson's Farm, Jezza did an entertaining job covering the topic and as I saw some outtakes on his farm on instagram I was interested about more context. That was actually the only Amazon Prime I watched in the last time. Mostly on Disney+ or Netflix. Catched up on Kominsky Method, well very light fare, but quite happy about the return of Black Summer. Just not feeling that Zombie vibe anymore, but I like the pacing - something that is missing hard from Walking Dead. Bad Batch is entertaining, and I'm in the third season of Clone Wars for more context (great to see how all these storylines interconnect). As for Loki, it is going to be interesting where this is going, but have to say, it is more entertaining if you have the context for all the easter eggs. I watch Screencrush to catch up on that.
For quicker updates on how the move is going and progress on the summer project, ideally follow me on instagram.
Enjoy this article?