While looking for beautiful figures for the French and Indian War, I came across the manufacturer Black Hussar Miniatures some time ago. We don't have a particularly large number of manufacturers in Germany for historical figures in the 28mm scale, so we want to take a closer look at this manufacture today. The models had been here for a while and I am also very sorry for the long delay, but the pandemic conditions made it very difficult for us to photograph the models appropriately. The pictures therefore do not necessarily show the quality that is otherwise known from the chaos bunker. It was just not possible for me to have a photo session with Dennis. I would like to apologize to the manufacturer for the long waiting time.
The manufacturer
Black Hussar Miniatures was founded in 2015 by its current owner Sascha and his buddy Florian. The two Berliners needed miniatures for their own project and since they couldn't find anything suitable, they asked an friend to model corresponding figures for them. A few test figures became very extensive series for the Kingdom of Prussia and the Kingdom of France in the Seven Years' War. The French were also expanded to include a few models for the Canadian theater of war. The miniatures were so well received that the two decided to sell them in their own shop.Black Hussar Miniatures is now well established on the market, but that does not mean that you can make a living from historical small series. Sascha, who now runs the company alone, invests all profits back into new miniatures. In the meantime, another series has been added for the Napoleonic period. This - originally brought into being by Westfalia Miniatures - is the mainstay today, as this era is in much greater demand, especially internationally. Three freelance modelers are currently working on the series on a regular basis, so that they are continuously expanded.
The miniatures
Black Hussar Miniatures provided us with a few miniatures to put these through their paces - so many in fact that we decided to do so in several articles. Otherwise it does not do justice to the matter and would not correspond to our claim. So today we start with the models that are particularly suitable for North America, namely the civilians and the Compagnies Franches de la Marine.
We have the following sets: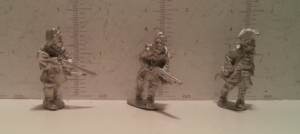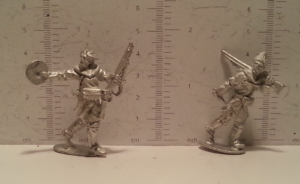 The five men of the Compagnies Franches de la Marine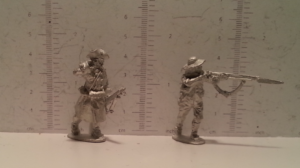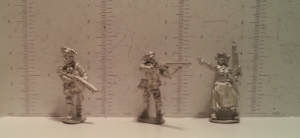 The five civilian

Both sets were delivered to us in a plastic bag and each contains 5 models. The set costs EUR 10.00 per piece, the individual figure EUR 2.00.The cast is very sharp and surprisingly few cast lines are present. There are no other residues that are otherwise known from metal figures. Overall, the material is rather rough and very firm. An attempt to bend the guns of the firing civilians with slight pressure failed completely. The faces of the models are expressive and support the dynamic poses. Among the soldiers there is an officer who can show a rather greasy face and a handsome belly, which is a pleasant change and makes him suitable as a civilian. He's wearing a sash, but he could also be the leader of a hastily called vigilante group. He also wears a tricorn, while the rest of the soldiers wear camp or woolen hats, and one soldier goes into the field with a slouch hat. The short coats make the models universally applicable for almost all seasons. In addition to various items of luggage, the common soldiers all carry a tomahawk, but no knives on their neck straps. However, this is not a problem, since this was a common practice, but above all with the Canadian militia and not every colonial soldier must have adopted this peculiarity.The civilians carry a mixture of muskets, rifles and shotguns, are sometimes only in vests, but sometimes also in jackets or coats. The models give the impression of settlers defending their farms. The possible uses of the various models are, however, very versatile. One or the other fighter is also ideal as a minuteman in the American War of Independence or as a Coureur des Bois, a Canadian ranger.
The size comparison
A question that should not be neglected is that of the scale of the figures. Historical systems live mainly from the fact that you can use different manufacturers to get your individual collection. For the French and Indian War, the models from Warlord Games are certainly among the most popular, especially in Germany. Other well-known suppliers include Front Rank, North Star Miniatures, Galloping Major, Sash and Saber Castings, Blue Moon Manufacturing, Dixon Miniatures, AW Miniatures, and Redoupt Enterprises. There are also smaller series or usable series that are not directly intended for this conflict. In addition to the very well-known Perry Miniatures, Crusader Miniatures, 1st Corps and Trent Miniatures should be mentioned here. At Wargames Foundry you can also find a lot for the conflict, even if there is no explicit series here.Unfortunately, we do not have models from all manufacturers for a comparison. For orientation purposes, however, the models can be roughly divided into three groups:
 Small: Models that are not only small in height, but also often appear slimmer. This is often particularly noticeable with the weapons. In addition to Warlord Games, Sash and Saber can be located here. Dixon Miniatures tends to have large heads, but the models are very low in height. Wargames Foundry does not have a consistent size, but experience has shown that it is usually somewhere between the small and medium size.
Medium: Models that are either a little stronger or are average in height. Typical for this size are Perry Miniatures and AW Miniatures, but Crusader can also be included here. Front Rank doesn't offer particularly large models, but they do tend to have a certain abundance and terrifyingly large hats!
Large: Models that are often much more bulky and larger than those of other manufacturers. The smallest of the big ones is likely to be North Star, followed by 1st Corps, while Redoupt Enterprises has a reputation for offering very large models. Our present example does not prove this, but that may be due to the model itself. Galloping Major correspond very well with Redoupt. Blue Moon also comes with quite tall models, but they are rather slim.
This classification is really only an orientation! This is because not all figures in a range are always kept to the same scale. This is particularly noticeable at Warlord Games, Wargames Foundry and Blue Moon. But this is also due to the fact that the size difference is not so easily noticeable due to the position of the model. The rifles are usually problematic. People may be of different sizes, but that doesn't mean they get a custom weapon!So much for theory, let's go back to Black Hussar Miniatures and a few comparisons.
We had the following models for this:
Warlord Games (older / smaller range)
Warlord Games (larger / newer range)
Perry Miniatures (from the AWI range)
Redoupt Enterprises
Dixon Miniatures (but from the ACW range)
1st Corps (but also from the ACW range)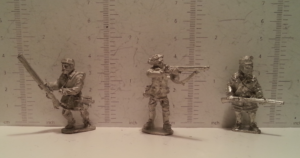 From the left: Warlord Games (large), Black Hussar, Warlord Games (small)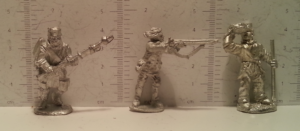 From the left: North Star, Black Hussar, 1stCorps

From the left: Redoupt, 1stCorps, Black Hussar, North Star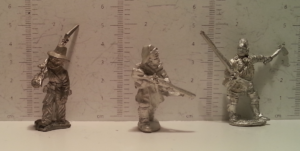 From the left: Dixon, Black Hussar, Perry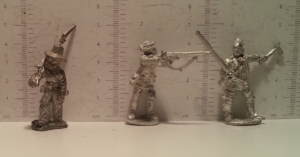 From the left: Dixon, Black Hussar, Perry
What can I say? The figures are a phenomenon. On the one hand, Dixon and the old Warlord models still look believable next to them, on the other hand, one or the other civilian can also be combined with a North Star model without it looking totally weird. At North Star, the weapons of the Black Hussar miniatures are slowly reaching their tolerance limit, but appear more harmonious than those of the Perry miniatures. So if you already have models from North Star, you can mix them with the civilians and soldiers here, just like someone who already has a collection of models from Warlord Games.
Conclusion
We do not yet know what consequences Brexit will have on our hobby and it is good to know that there are suppliers of high-quality metal miniatures on a common scale in Germany. Black Hussar Miniatures convinces with realistic poses, good material and a clean cast. If you want to play mainly French, you can actually completely dispose of your collection with the models from Black Hussar Miniatures, because you get everything you need there for the conflict. The price of EUR 2.00 per miniature is a bit higher than most other competitors. Warlord is available for around EUR 1.68, North Star for EUR 1.76, Perry Miniatures for EUR 1.89, and Wargames Foundry for around EUR 2.35 in German stores. With all other competitors, you cannot avoid ordering abroad, where the postage costs can be considerable. In Germany, for example, you have to add 20% of the value of the goods to postage for an order from Sash and Saber, up to a maximum of 50.00 GBP. These additional costs ensure that a figure from the FIW series by Sash and Saber is at least £ 2.25 for us. That then shifts the price again. If you then also consider that you have a rather small selection in this country, especially with armed civilians, the price is completely reasonable. It's nice not to see the same miniatures on the gaming tables.In the next article we take a look at the regular soldiers of the French.
The reviewed product item was provided by the manufacturer.
Enjoy this article?