As announced in November, I painted the last lineman of the humans for my Old World Alliance team. With that, half of a Blitz Bowl team is already done and I'm considering stepping on the gas again in January and paint the remaining three players so that the next time I'm at the club in Bedburg, I can field a completely painted team.
As you can see, the players look much better with the decals, as it breaks up the large green areas better. While I think the contrast between the light and dark green is sufficient by now, the decals add a certain polish to the overall look.
Otherwise, December was rather quiet in terms of the hobby, which is not surprising, given the pre-Christmas activities and various family visits. Christmas itself came early for me, though. My wife knows me and my hobby quite well by now and knew what she wanted to gift me, but not where to get it. So she simply asked me for a suitable supplier and together we chose a bargain.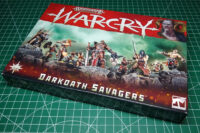 On the one hand, I'm happy to finally have the barbarians in my collection, especially since I was planning to tackle another WarCry project next June anyway, but more on that in my yearly outlook. On the other hand, it feels a little strange - am I not blowing my budget with this? I got it as a gift, but pointing the finger at it still doesn't feel right, especially since I already have so many minis.
But, as I always say, "A guilty conscience can only come from someone who knows they're doing something wrong," and after an evening of thinking "Hey, I'm really barely spending anything on the hobby," I shrugged it off and...blew my last hobby budget buying a StarGrave mercenary box.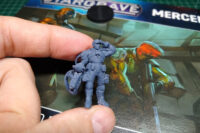 Paschspiele delivered the box free of charge and with a free 3D print - what more could you want? It's a pity that the mini is not in 28mm scale, it would have fit perfectly into the StarGrave setting.
The rest of my December remained SciFi-heavy as well. During the year I got the Blister Gunbots from Northstar's StarGrave series and finally got around to deburring and priming it.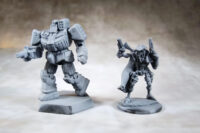 As you can see on the picture, I also removed the casting edges from the first mech from my Battletech Beginners Box and primed it as well. While the pewter figure was surprisingly easy to deburr, the mech gave me quite some trouble. The material is kind of like the older Mantic products, but it's not Restic. In any case, neither sandpaper, cutter knives, nor files helped against the fine lines and I was only able to clean the mini to the "best of my ability". So in the future I'll try to get mechs rather from a 3D printing supplier.
I don't know what size I'm getting into Battletech yet, a Lance in itself is enough for me, but as with most games I always build up a second squad so I can start playing right away. And I have to admit, Alpha Strike, a faster variant of the game, more reminiscent of classic tabletops, is itching me quite a lot.
Budget Challenge
My budget in December was quite generous despite my overspending in October, as I had not made any purchases in November. Thus, I had just under 30, - € to just shop to my heart's content.
My December budget:
Balance previous month: 10,47 €
December 2022 budget: 30,47 €
December 2022 spending: 24,- €
December 2022 rest: 6,47 €
Expenses for work materials:
December: 0 €
Balance until December 2022: 84,84 €
So I spent 233.53 € for hobby knickknacks in the whole year, which also includes shipping costs and completely useless things, like the mispurchase of the water lilies from Noch, or the magnifying glasses. Well, still...when I see it all in one pile, combined with the costs for the working material, 318,37 € isn't exactly a small amount, considering that I have enough miniatures and working material in the house. Nevertheless, my mission of great moderation in the hobby continues and was crowned with success in 2022 - time to pat myself on the back a bit. "Well done, Dino."
For next year, I will probably apply the lever here again, but you'll see more in my annual outlook 2023 about that. In this spirit:
Many greetings from the Chaosbunker and a happy new year 2023
Dino
Enjoy this article?