While were in Nottingham for Bring Out Your Lead, we used the time on our hands to visit the new Warlord Games Headquarter and Store. The moved within Nottingham from the Business Centre (where Northstar and a few other miniature companies have their offices as well) to Lenton, not far from the Warhammer World. And once again, it is impressive to see how much the company has grown and I want to share my impression with you.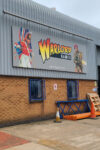 You can sign up for a guided studio tour, which is held Fridays at 13:00. You'll need to book the day before by 12:00. Tickets are 15 GBP per person (free entry for children under 15) and you get a goody bag of sample figures. Conor, who runs the Warlord HQ store, is the tour guide and brings you from station to station, to learn more about how the miniatures are crafted and how a miniature company this size operates.
The store itself covers a few gaming tables, a painting area, lots of lots of shelves and a few display cases with their product range displayed. And of course, as the warehouse is right behind the front desk, just because it is not on shelf, doesn't mean you can't buy it.
The tour starts in the warehouse and this is just amazing to see. I get especially excited, as I come from a supply chain background (did an apprenticeship and later studies in logistic focused economics), when I have the chance for such a peak behind the curtains, as you can see a lot of the "quality" and seriousness of a business from these things. A proper organised warehouse is the backbone of a proper company (as we say "shit in, shit out", it is much more difficult to deliver a proper quality, when you're unorganised or don't know where your items are). And this is properly sorted. Along with the fact, to see how much this has grown in size and got more organised, compared to the earlier stages of Warlord Games, where they had to split the warehouse and stock across a larger area and multiple rooms.
And it is great if you have the space, especially for slow turning goods, to simply keep them on high-bay storage and have the A-goods / fast moving items, accessible on ground level.
After we got an impression on the packing stations for the customer and whole trader orders, we went into production, starting with the resin. Really interesting to see, how the larger pieces were cast. We got information on the daily number of miniatures that were casted, the duration of the casting process (especially how long some items have to cure until you can remove them from the moulds) and how long moulds last.
We got to take a closer look on some of the larger moulds and it is impressive how heavy these are (as they partially are made from multiple litres of silicon). And of course, the vast variety of stock, along with creative repurposed miscasts as seen in the last picture.
While resin casting is often used for larger kits and items, that do have smaller production batches, the backbone of most miniature companies is the metal spin casting.
We got a deep dive on the materials; the huge amount of metal miniatures produced each month and how many tons of alloy used for that at Warlords. They talked about the preparation of the moulds, how things have improved over the years, not only with the alloy, but with the materials they make the moulds from as well as casting aids (for example using starch instead of talcum in metal casting). This was quite interesting, as we are huge fans of metal miniatures and this is how the models were casted we started our hobby with, and even with so many plastic kits around, it is still something that I feel a deeper connection with.
And similar to the warehouse, we saw how the metal casting was done back in 2010 in Nottingham, this has improved a lot, got even more professional and you can really see the progress.
This progress can be seen with new production technologies as well. Warlord Games has incorporated Siocast into their portfolio as well and is one of the few companies, that has the necessary output (and thus learning curve) to profit from this new way of casting.
Siocast has different material and improved since the last time I got in touch with it. They now have a sturdier and more crisp plastic, that is still flexible. Siocast has developed special machines, that uses a patented injection system with vulcanized silicone rubber moulds (similar to metal spin casting, but using pressure/vacuum instead of centrifugal forces). It is a closed system, so the manufacturers have a vendor lock-in towards Siocast, but it is faster than resin casting and depending on the production numbers cheaper than metal casting (which got more expensive due to higher costs for the raw materials). But you have to build up the knowledge on the mould making, as it is different from the spin cast moulds.
The models we were given straight from the production are a much higher quality than the first, soft Siocast miniatures I experienced a few years.
After seeing the three inhouse production stations (plastic is outsourced, depending on the kits to different manufacturers) we came through the studio. As it was Friday afternoon and our visit was happening at the same time as GenCon, there were fewer people around than usual. We got an introduction by Paul Sawyer and had the chance to talk with some of the designers, painters and other studio employees.
Obviously, I wouldn't spoil new miniatures that were work-in-progress, but we could see the vast amount of studio armies, the backdrops of the photo station and some more. Keep an eye out on the Warlord Games social media feeds, interesting things coming up.
I've met Paul Sawyer and John Stallard on earlier trips, the first time back in 2010, and on our way out, after talking to Paul about his stunning beastmen warband, we met John, CEO of Warlord Games, again and had the chance to hear about the upcoming releases and things ahead for Warlord Games.
He proudly presented his latest project, Talking Miniatures. It is a whooping 492-page softback book, split into two volumes, and comes with a hardback slipcase, covering the early years of Games Workshop and Citadel Miniatures. If you think, wait, hasn't Dice Men already covered that? Well, that is covering the Livingstone / Jackson part of the history, more of the Owl & Weasel time of Games Workshop, when they were a distributor of role playing games and such. Talking Miniatures covers the late 80s / early 90s era ongoing, when they were more miniature focused and provides the proper old to mid-hammer vibe. Quite the fitting read for our Bring out your Lead tour.
If you are in Nottingham and you are interested in historical wargaming, Warlord Games is a must. First of all, you're very likely to drop by at Warhammer World and this is just around the corner. With the studio tour, you get a lot of that flair and behind the scenes, on how miniature companies in and around Nottingham operate (how Games Workshop used to do it, before going all plastic, how others would like to do it, if they were the size Warlord Games is, etc.). The staff is incredibly motivated and friendly, so even if you're not into historical wargaming (yet?) - give it a try.
Thanks again to Lorenzo for hosting our visit at the studio, and to everybody at Warlord Games for taking the time to make our visit as inviting as it was.
If you want to take a look on the earlier tours we did, we visited Warlord Games in 2010, in 2013 as part of the first Warlord Games Day and in 2018 as part of our Operation Sea Lion tour.
Enjoy this article?