This one has been travelling my mind for a while. The idea of a octagon terrain piece, using the Sector range, already came along, when I build the Basilicanum from the Sector Imperialis range, as well as the Battle Sanctum from the Adepta Sororitas.
So, when I saw these pieces on the tables of one of the White Dwarf battle reports (this one mostly stayed in my head due to the railway waggons) and the magnificent table build by Shinnentai (only found him on Facebook and Twitter), I felt I needed this in my underhive terrain section as well.
For that reason, I look across the various - still available and not oop - kits and  went for the Sanctum Administratus, as it covers a more industrial look, matching the underhive and providing at least 8 full wall sections, that I would need for an octagon shaped building.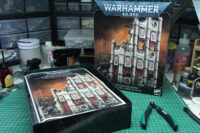 It covers three different designs in these sprues, so along with further bits that wouldn't be needed here and were partially used for example on the Ferratonic Silos, that would be enough. I arranged them, to see which of these I'd like to use and avoid mirroring / unwanted repetition.
The main build is rather easy, but you have a bit play on the pieces, as the pillars are not that sharply casted. So, I suggest building smaller sections, angle them and glue them together while the glue still settles, so provide a proper alignment.
As you can see, I intended to use the floor tiles from the Sector Mechanicus, as it would provide an octagon shape as well. As the main parts would be too small, I played around with various combinations, having an overlap and so on. And looked back on the gaming tables from the White Dwarf as well the Shinnentai variant, to see how they worked it out.
If I'd stay with the sector mechanicus, I would need a filler. This could be provided with the double-long tile section, by cutting it in three parts, using the middle piece as a spacer between the half-octagons and re-using the side strips, but with angled ends. I'm honest, at this point, I'm thinking about using plastic card and maybe scratch-building the whole floor as it is. It depends a bit on the superstructure that will follow up on top.
And that is actually currently the thing that keeps me from finishing this one. The dome that is part of the Alchomite Stack, is rather "rare" among the terrain sprues, and I don't really see me buying it at 45 EUR to add a topper here. So, I'm a bit struggling how to deal with it. If I get that sprue for around 15-ish EUR, I would use that. Maybe I have to print one, once again Seven United provides a proper substitute, along with further extensions.
With that problem still in the room, I tried various ideas, but none of them really spoke to me as much as the dome did. I added the coin from the Necromunda 2017 boxed set as kind of a door sign. As I would like to use that building as some kind of Guild Hall, like a pawn shop or other kind of trade station.
As you can see, I imagine some further extensions to that building. Using the different sides as desks for transactions, having them separated by half-high / partially ruined walls. Adding a exhaust to the dome, along with canopies, picking up some elements from the Underhive market and so on. Maybe adding a tank on one of sides, for serving liquids / water / beverages or so.
What do you think? Happy to hear some feedback. I would like to make this my centre pieces for a market place. It will most like receive a base, to have a sturdy underground for the extensions from the middle.
Enjoy this article?