Most people associate Black Friday with huge sales on electronics in the states and in the last few years it became more and more popular in Europe / Germany. I came across a special sale at Radaddel and spent about 50 EUR on the items below.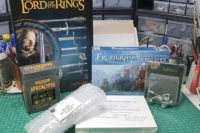 So what did I get in detail?
The Hellboy Tentacle Monster, RRP 25 GBP (about 27 EUR) and it cost me 5 EUR. Quite the steal. And I intend to use this as a very impressive variant of the Kraken, so the broken wood will partially be modified to go with the remains of a ship, and of course the base will be heavily modified to match the sea. Crisp cast, nothing to argue here and at below 20% RRP a great steal.
This one was kind of a filler, Athlean Retiarius, but I have a soft spot for gladiator miniatures, and at 4 EUR to the regular price of 12,95 EUR a proper steal as well. Nice metal cast, a bit on the tall side, so it will stand out a bit or look like a brute compared to the Hicks sculpted arena fighters I have.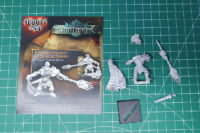 And as you can never have enough dice, I couldn't resist this set - 50 dice, especially with half of them being d12, I'd be prepared for most systems out there. And 9 EUR instead of 35 EUR again a great deal on this box of dice.
This one has been on the shelf for quite some time, Mantic offered resin casts of some of the 3-ups they prepared for plastic kits as collectors editions. I already have one of the Walking Dead and Kings of War zombies each, and at 6 EUR. Hop in! The original price was 27,50 GBP, so not a huge surprise that this didn't sell.
I got myself the new Knight plastic kit for Frostgrave, not part of the Black Friday sales, just a regular 10% off. Looking forward to cover these in a review, like the other kits.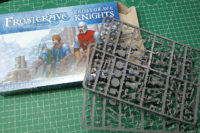 And this is something that I had an eye on for some time, it was just to expensive for my taste at the regular price of 25 EUR, but at 10 bucks I couldn't resist.
So overall, list price of about 150 EUR and only paid a third. Nice haul on my end. Did you catch some good deals on Black Friday?
Enjoy this article?