I am currently waiting for an order from Modulor, that will supply me with plastic card and brass rods, to take of some ideas I have for Black Seas / the Age of Sail.
I have a box of 3rd rates spare, I intended to build a merchant vessel, add one ship to my fleet and build a wreck from the third one. Here's a mock-up of what I have in mind.
The wreck should be broken in the middle, with parts sunken, maybe broken mast swimming nearby, damaged sails and all of that placed on a custom plastic card base. I think around 1-1,5mm should be strong enough to support that.
An additional view from the top.
A second box of Frigates & Briggs on its way, and I intend to have one of the ships as a wreck too. Again on a custom base, maybe with one of the lifeboats nearby, with damaged masts and sails.
And I think about replacing the token / marker with more fitting ones, like this with small crates cut from plastic sprue, swimming in the water. Maybe I'm able to source some barrels or cut round pieces in that size. The same with some of the lifeboats. Maybe even a whale as a special objective to hunt down.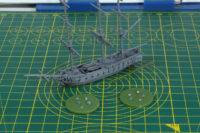 As these bases would look empty, I'd use Vallejo Transparent Water Texture, which I already used for the Dystopian Wars project and am very fond of. You give the base a base colour and add the water effect, stippled on top in multiple layers, creating waves and a less and less translucent white spray on top of them.
I already compared the 1:700th scale of Black Seas to Dreadfleet and it works incredibly well. Yes, it is very fantasy / warhammer, with all the skulls and such. But some of the islands and wrecks will fit with the game.
Same goes with some of the ships, for example this one will make a great flying dutchmen, and from what I hear for the Black Seas supplement, it might contain some less historical contents as well (KRAKEN!).
So, have to wait for the hobby materials to arrive and will cover that in the near future, along with a couple of reviews on Black Seas, incl. the Master & Commander starter kit.
Enjoy this article?