After expanding Bolt Action into the naval combat with Cruel Seas, Black Powder benefits from a similar treatment and is expanded into the Age of Sails with the new Black Seas ruleset. Warlord Games introduced three new plastic sprues with ships in 1/700th scale of which we're going to cover the Frigates and Brigs today.
These sprues are part of the Master & Commander starter set as well, but are available as a Flotilla for 20 GBP and cover two Frigates and four Brigs.
The age of sails is a time period from mid 16th century to mid 19th century, where as Black Seas narrows this down to the period between 1770 to 1830, covering mostly the American War of Independence and Napoleonic / Coalition Wars. As such this kit covers two generic ship types that were and can be used by any nation covered so far in the game.
Frigates

Frigates were perhaps the hardest-worked of warship types during the Age of Sail.  A small warship with a perfect balance of speed, armament and resilience that made it one of the perfect vessels for single-ship action and privateering against merchant ships. It usually had one main gun deck as well as the guns positioned on the top decks. These were categorised as either 5th or 6th rate within the British Rating System, dependent on the number of guns they mounted.

The 5th rates were the archetypal frigates of the period. Used for single-ship actions and privateering, they could make their crews very rich as a result of the share of the prize money for any captured ship. A frigate was a desirable posting for a Royal Navy officer as they often saw action, so glory and promotion were more likely in addition to monetary benefits.

Frigates scouted for the fleet, went on commerce-raiding missions and patrols, and conveyed messages and dignitaries. Usually, frigates would fight in small numbers or singly against other frigates. They would avoid contact with ships-of-the-line; Indeed, even in the midst of a fleet engagement, it was bad etiquette for a ship of the line to fire on an enemy frigate which had not fired first... Wargamers take note!

Brig

A two-masted square-rigged vessel, with between 10 and 18 cannons, frequently used in combat actions by various navies. Ships with less than 20 cannons were considered Unrated. These were not really meant to participate in large battles – that was the domain of the ships of the line. However, they were the vessels of choice for privateers and still played a valuable role during larger battles, relaying orders and messages in a similar fashion to the 6th rates.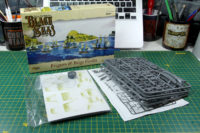 The flotilla set is tightly packed with a lot of gaming material. You have 4 sprues (2 for the frigates and the brigs are two per sprue), pre-cut sheets for the sails, a roll of black yarn for rigging, ratlines printed on clear plastic, wake markers (similar to those from Cruel Seas) and a sheet for flags and pennants.
And a huge improvement over the Cruel Seas plastic, actually helpful instructions that guide you step by step through the building process.
Here you can see the very fine detailed sprue of the frigates and brigs. As mentioned further above, the sprues either contain one frigate or two brigs. Casting is very well done, low amount of clean up necessary, well covered details and the parts are in good reach.
First up the small brigs. They have a ground plate and two sides each. No variations here.
Next up the masts, there are three different sizes. Main mast, foremast and bowsprit. You might need to file the socket connection a bit for an easier fit, as they are quite tight. Keep an eye on all three of them, that they are leveled / aligned with the ship. The the main mast two yards are added, that will later carry the sail on the stern of the ship.
Last parts of the brigs are the anchors, each sprue covers four anchors in total, but I decided to only add one anchor per ship, as it looked enough.
As the brigs assembled so quickly I was looking forward to something bigger and a bit more demanding. So next up the frigate! They begin with a deck and two sides as well, but bring a few options with them. Every sprue has three different figureheads and backplates. Those are not directly faction specifics (yet, there are specific figureheads and backplates as part of the fleet bundles to show named ships). The figureheads cover a warrior, an unicorn and curved wood.
The frigates are bigger and have therefore more masts. So in addition to the main mast, foremast and bowsprit we have mizzen as the third mast upon deck next to the stern of the ship. The mast in the back has additional yards for a sail, similar to the brig.
In addition to the anchors, of which we still have four in each sprue / per ship, there are smaller boats included. These are stacked upon deck. There is no fixed order, you can use them as you like, maybe keep some spare as marker for rescue missions.
The whole content of the box build, four brigs and two frigates built from the total of four sprues of this flotilla.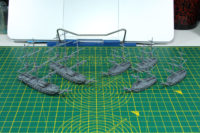 To give you an idea of size, here are the brigs, next to a frigate and the even larger 3rd rates of Black Seas.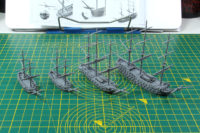 And the two different types of ships from multiple angles.
Conclusion
I am very happy that Warlord Games expands beyond the 28mm scale and uses its size, to experiment with other scales and game settings. With something like naval wargaming, being supported with proper plastic kits, that's very refreshing and appealing.
There were "easy access" naval games before, but not in this scale. There were Pirates of the Spanish Main, with their boosters and easy-assembly plastic card ships and there is / was Sails of Glory, who brought the wings of war (x-wing proto-game) mechanics to a naval game, but their pre-painted ships are rather expensive. And those were the easier to acquire games with ships. Within tabletop wargaming naval games are niche and so acquiring miniatures from the age of sails, after settling for a scale, is somewhat difficult as you have to find a manufacturer, usually in the UK and order via mail-order, to receive some metal and resin ships.
So with Warlord Games entering this part of wargaming, you have a much higher availability. Not just online, but in many stores, that carry games like Bolt Action or Antares, which makes it not just easier to buy, but to find and motivate others to join you in this setting as well. The basic idea and the way it is handled already receives a positive feedback from me.
Beyond that, the box is filled with stuff. You have a couple of game marker (that will be covered in the review of the game itself later), you have flags, the sails, yarn for rigging and such, which are proper full service. And that is not a matter of course nowadays. 20 GBP for 6 ships, incl. the additional material, is reasonable (5 GBP per sprue is a bit higher compared to the other ranges, but these will not have the numbers compared with let's say German Infantry for Bolt Action/ww2) and the combination of this flotilla makes it a perfect addition to the starter set.
Rigging and Sails are not necessary steps of these miniatures. You can easily paint and play without them. As both steps are done at best, after painting, I'll cover them in a future article, after having these ships painted.
Black Seas is a brand of Warlord Games.
The reviewed product item was provided by the manufacturer.
Enjoy this article?