After covering the Crewmen, the next Frostgrave Ghost Archipelago kit are the tribals we're going to cover. Besides the very obvious temperatures and climate as a difference, in Ghost Archipelago the crew follows a heritor instead of a wizard, and these tribals can be used either as allies or enemies of those treasure seekers.
The tribals are a generic plastic kit, catching the idea of tribes, native to the jungles of the Lost Isles and isolated from the known world. They are heavily influenced by different cultures from our world, like the Polynesian Samoans or Maori, with some North American and African influences as well.
As we are accustomed to with the Frostgrave plastic kits, it provides four plastic sprues with five different miniatures each, providing a total of 20 models in 28mm scale. The models come with bases, two Renedra sprues with 10 round bases of 25mm diameter.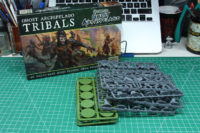 The composition of the sprues is well done, you get a broad variety of bits and pieces. Casting is done by Renedra, so you get proper details and quality of the material.
5 bodies
10 heads with 5 different head masks
2 arms with double handed weapons (stone axe / picks)
5 right arms with hand weapons (clubs, spears and axe)
2 arms with bows
2 arms with blowguns
4 left off arms
2 left hand with small weapons
2 shields
2 quivers
5 bags

A total of four of these sprues is included in the set. The space of the sprue is put up to good use, but it could have had some more tribal trinkets.
We have five different bodies in standing and leaning poses. They only wear loin cloth and a broad collar, some wear necklaces with teeth.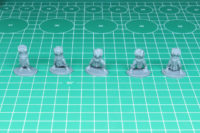 Usually, I build the seven different types of henchmen, but due to the NPC character of these, I will go for different load outs a sprue can cover. So we're going for different weaponry and styles. With spears, hand axes, double handed, a bow and blow gun.
The heads are quite divers, with different hair styles, from mohawks, to top knots and headdresses / warbonnets. The heads have the option for face masks, that are simply glued in front of the face.
And they assembly pretty fast, the only thing missing are the shields and small pouches. There are unfortunately not trinkets (I could have imagined some stereotype things, like bones, shrink heads and such).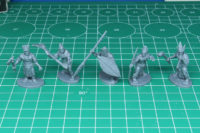 The heroic 28mm scale isn't too overdrawn and fits with a lot of different manufacturers. For example you can see the Wargames Foundry Darkest Africa and Married and Unmarried Zulu Warriors by Warlord Games aren't that far off, and for some generic or fantasy tribes, you could probably mix and match them.
And of course, to close the review, the small tribe in front of the back drop.
Conclusion
As for plastic tribesmen, there are the Mahdist Ansar Sudanese Tribesmen by the Perrys, who carry Zulu warriors as well. Warlord covers more Zulus, splitting the troops in Married and Unmarried Impi warriors. But for a more fantasy / overdrawn approach there were no products yet in plastic, so these fit right in there. The design is good, the details could be sharper and more present. Compared to the other kits they lack a bit of sharpness and character, but are still appropriate models.
Beside Frostgrave's Ghost Archipelago, I can see them being used for Mana Press Tribal rules set, and if you're not going for total historical correctness, to build Samoan or Maori forces on a budget (compared to for example the superb Maori Wars range sculpted by Paul Hicks).
The price of 1 GBP per miniature is very reasonable. Still I think the kit would have benefited from some additional content and a bit more overdrawn / dramatic items, yet with the price and the weapon options they could even be used to host a proper army for Oathmark or Kings of War.
Frostgrave is a brand of North Star Figures and Osprey Games.
Enjoy this article?