So we have build quite a couple of Frostgrave kits over the last few weeks, and we have a lot of spare bits to toy around with. As did Dino with his Sword & Sorcery adventure. So let's see.
This is just what's left from both first wizards sprues and added a crewmen and a soldier sprue, as a base.
We have eight different wizards from the two reviews, of the male and female Frostgrave Wizards. Now it is time to build some apprentices. Of course you could use the parts from the second sprue in each kit, but I wanted them to be a bit more different, so I used the bodies from the regular crewman kit. I do already own a few of the Frostgrave wizards in thicker clothing, so I wanted to build a few that I could use in the warmer regions of Ghost Archipelago.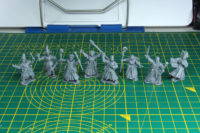 I used the apprentices and wizards from the Frostgrave North Star Magazine as an inspiration.
For the arabian looking wizard, I gave him an apprentice based upon a crewman, gave him a sabre and head with a fez. The two will be summoners and I thought a familiar would be a nice addition, I went with the owl. Blue and yellow should fit the clothes as main colours.
For the Necromancer I wanted a fitting apprentice as well, and once again used a crewman body with spare bits from the wizard sprue. I wanted to mirror the pose / role, and went with an orb, and beyond that rather light equipment. I think both could work quite well with a darker skin tone, fitting the different climate of the Ghost Archipelago.
The soothsayer fits well with the theme of Ghost Archipelago, a high hat, a wand with a gem on top and flowing clothes. For the apprentice I wanted a similar pose, so I gave him a book and a larger gem. The body of the crewman had a similar scarf belt as the wizard himself has, so along with the cowl, that copies certain design elements to the apprentice.
I am quite happy with the three different wizards and their apprentices. It just shows how versatile the range is and what a great job they did with the plastic kits.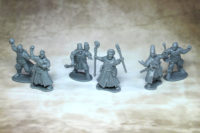 And I went on and built more crewmen, again a great kit, that can be mixed with bits and pieces not only from the Frostgrave range. You could probably use some Empire militia bits as well, as they have a similar piraty look.
With these three additional crewman, I've boosted my Ghost Archipelago warband to 10 regular grunts, and a variety of spell weavers. That should give me enough flexibility for most smaller games, along with other skirmishes in a similar size.
Enjoy this article?