Two weeks ago, on November 9th and 10th to be exact, Crisis took place in Antwerp, hosted by the Tinsoldiers of Antwerp. Dennis had already visited Crisis many times and delivered a good coverage in Part 1, Part 2 and Part 3 of his article series. For me, on the other hand, it should be a premiere, both for the event and for the city. Therefore you'll only get a subjective view of the weekend from me.
I've been to Belgium before, but that was more than 20 years ago and back then it was a visit to the capital Brussels. We arrived one evening sooner in order to save ourselves as much stress as possible on the trip there, but also in order to take some impressions of the city with us. We also took part in a small tradition that I didn't know it was bound to happen until I was right in the middle of it.
Because Crisis is not only interesting as a tabletop event, but also apparently serves in a quiet agreement as an annual date for a...let's call it "gentlemen's evening of the tabletop scene". So I didn't cut any slack either and chose "Barbar" from a number of different beers as my personal favourite of the evening. Actually I drink almost no alcohol and beer I usually don't like because of the aftertaste, but despite a hearty 8% Barbar tasted rather like honey and left no unpleasant impression.
I was a bit more economical with the food though - Dennis said that food outside of Germany was generally more expensive, but from my personal experiences in Italy, Austria, Hungary, the former Yugoslavia countries and France, I can say that this is not the case and a visit to the Crisis next year will definitely go hand in hand with a tidier provisioning preparation.
You can't really imagine the dimensions of the venue if you haven't been there before. I took the two snapshots before the official entrance, hoping to capture some of the size of the two warehouses at the harbour, but I can only recommend everyone to visit Crisis and see for yourself.
Basically you' re in the tabletop land of milk and honey, while at the same time it's the Grim Reaper for your wallet. For example, I noticed the booth of Atlantis Miniatures and their werewolves were really fantastic, but for about 50 Euro they were a bit too much for me in one go.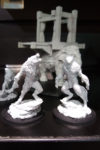 I also had a good chat at the Offensive Miniatures booth after I spotted their VIP and Media Team set. The humour in it was hard to miss. I was told that with the Near Future series they are trying to serve a clientele that is more interested in settings that are closer to the present. For me Near Future rather shows the potential to provide certain everyday scenarios with a good portion of satire and I will definitely browse through the online shop again in the future.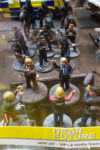 Apart from the large number of vendors, the many gaming tables were especially inviting, and in fact I would have liked to spend more time with them. It was at this point that I began to feel the event was a bit of a sprint for me, because I didn't just want to come here to shop for my first participation - I can do that online anytime as well. In addition to playtesting, I was particularly interested in getting to know the people behind the products, which was fortunately also the case with the highly motivated Mana Press team. Mad Maximillian is a car skirmisher that throws a pinch of Mad Max and a little pulp into a pot. The result is an interesting mix with steampunk flair that I haven't seen on the market before.
At the Wargames Club Militia Brabantia table, I would have liked to play a small game, although I was not sure whether the table was intended for it or just an exhibit. Anyway, I have something for both Frostgrave and Pirates, which is why this modified version of Ghost Archipelago impressed me immensely.
I could now go into some more details about more of the gaming tables, but that would exceed the dimensions of this report quite a lot, so I'll get to...my personal loot in the next post.
Greetings from the Chaosbunker
Dino
Enjoy this article?