Under different circumstances, I'd be psyched the whole week, with anticipation of driving to Antwerp, meeting with a lot of people that I wouldn't have seen since Salute (yeah, that didn't happen either). I had quite the plans for this year, as you can read in the Kick Off from back in January. And Antwerp would have been the guys weekend, the final show before a Brexit would make a lot of things in Wargaming a lot more difficult.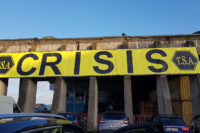 At the very first show I went to in 2011 I was driving in the early morning, but very soon we realized, Antwerpen is a city that offers that much, that you need more time. So our schedule for the weekend shifted towards an arrival on friday early afternoon, to have time for a proper tour of the flemish city.
And that does not only count for the sights, but the food and famous Belgian beers!
But that's only one part of the trip, because we go there to meet up with our wargaming friends and family. Talking about new projects and releases, ideas and great finds and bargains at the bring & buy or show, simply having a good time.
My first CRISIS was in 2011, back then at the old location. First visit and I was hooked.
Due to the growth, the CRISIS 2012 moved into a new location, the large hangar in the harbour area, where it is hosted until today.
And it grew again in CRISIS 2013. That year, we went to the show as part of a bachelor weekend (with the husband to be unaware of the actual trip).
At CRISIS 2014 the growth demanded a second hall to be added, really putting the show onto a new scale.
The CRISIS 2015 was a special show, as it was the 20th instalment of the largest wargaming event in continental europe!
In 2016 I had to skip due to an appointment collision, but the year after I was of course back at CRISIS 2017!
With the aftermath of becoming a dad, 2018 had to be skipped again, so CRISIS 2019 was the last show for me, and the first one for Dino.
As you can see, there is quite a lot to see in Antwerp, at the show and in the city. But the current circumstances it was the best decision to sit this one out. The show will be back, and so will we.
Stay safe, take care of your people, check up on them if they are coping well with the situation and invite them to a virtual painting or gaming session. It certainly isn't the same, but it is something.
Enjoy this article?