And the last batch of images from Rheindahlen.
Let's close the coverage with this Dr. Who table.
And then there was Dystopian Wars, which got me really hooked on the game. I have to take a closer look into this.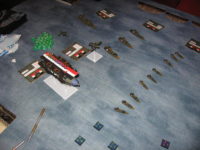 Continued by the cold scenario of the late crusades with the order of the teutonic knights.
And from the far east we got this lovely set up.
From the far east into outer space, with Full Thrust.
Enjoyed the stay in Rheindahlen. Very well hosted and organised and a shame to see it go.
Enjoy this article?