So here is the Weekend Update ... without Seth Meyers (you have to wait for Saturday Night for that one ... 😉 ). I did some painting. As you'll probably won't believe me and guess that i just have been basing some stuff, here are some pictures.
The German Marines are pretty close. I have to finish their faces, weapons and some details on the gear. But i like the camo and battle suit so far.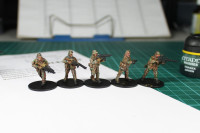 As well as the grey-greenish look of the hazmat. Here as well, weapons and details still to go. Probably will catch on those this weekend.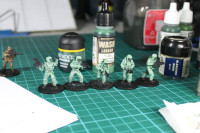 On a side note, it finally arrived - The Pegasus Bridge! Thanks to Matthias for keeping me busy. In addition some of the new Bolt Action / Army Painter Sprays, the Dreadball Big Mech and the Afrika Korps from the Perrys.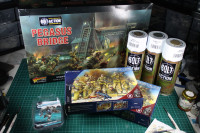 Enjoy this article?