I've been tinkering around since last weekend, preparing and building kits, taking pictures. All that's left is adding the texts. I even managed to upload some older - partly unseen - event coverage to this page.
So what's up for the weekend? Well, first things from the for sale thread are packed and waiting to be shipped.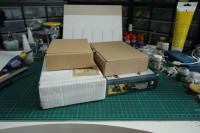 And this weekend will be used to get into some oldies but goldies, to get the feel for some Bolt Action preparation and painting. "The Great Escape" and "A bridge to far" are about to be seen, while i build a larger MDF terrain project (more to come on this within the next weeks). And some cooking experiments (why is explained further down below) - side note, do you want pictures of my cooking projects in here as well?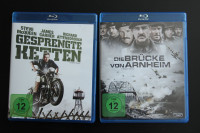 What is the overall status? First of all, i am quite excited as in not even 8 weeks it is time again for the Warlord Games Day! And i'll be there! Staying a few days in Wargaming Silicon Valley or the Lead Belt Area a.k.a. Nottingham is going to be exciting. I've been to Nottingham in February, again amazed how much Warlord Games has grown since the last time (which was 2 years ago for the first Warlord Games Day), when i was already amazed how much they've grown since the visit before that.
Why the noise and changes in the Chaosbunker? Well, we are not getting younger and gaming has changed a lot since i've started with the hobby almost 20 years ago. My focus on being more of a collector than a rules guy hasn't changed, but the horizons has. It is amazing to see, how many different rule sets and ranges there are, and how interesting and broad the historical settings can be, if you are open to do a bit of research. For example, you like Game of Thrones? Read about the War of the Roses ... do it! As i am becoming older (yeah i prefer saying i become older, because i am still not sure about that growing up thing 😀 ), i don't have the same time on my hand, i had the years before during studies or apprenticeship, and i want to make the best of it. So instead of hanging around some folks in a sweaty gaming store next to a sexshop in some smutty trainstation area, i prefer gaming at my own place or at friends houses. And i am currently preparing this to be more of a social event. You know, its not about beating somebody senseless with rules as written and being an asshole about some exploited army list i found online - it is about having fun, with some nice people and spending a good time with them - for everybody. So i had the idea of a "tabletop dinner", i am not sure, if you are familiar with "Come dine with me", where a group of people invites each other for an evening of culinary delights and vote who did it the best. Scrap out the voting part and add wargaming to this, and you have the tabletop dinner. So the idea is to prepare a stand-alone game for the evening, along side with some nice food. And rotating the host through the group. So for me this is the chance to have narrative gaming in a group of 3-5 people and improve my cooking skills. And as this is a gentlemens night, proper headpieces will be worn. This isn't something that is done easily, and needs some time for preparation, but it is the reason why i am currently doing so much terrain and tidying up - you know, to have the needed room to invite the people to.
This is about the overall experience, so rules won't be that important and there might be a couple of re-rolls for dramatic / fun purposes. I am excited about the combination of the first round of "A very german civil war" with some traditional local food, a fantasy skirmish and mead, or Necromunda with craftbeer and tricked out burgers.
I hope you did not tl;dnr on this, and give me some feedback and advice on my upcoming project.
Enjoy this article?