In July, from the 12th to 15th, the Historicon 2017 was held in Fredericksburg, VA (Virginia, United States). It is a large wargaming event by the HMGS, Historical Miniature Gaming Society, and will return to Lancaster, PA, next year (after leaving it in 2009). As many other events, the Historicon offers a special annual event miniature and as they team up with Warlord Games, this miniature is available during the event in their online store, for those who can't make it. This is even a nice thing for the Americans, as even if you live in the United States, that doesn't necessarily mean that you are anywhere near.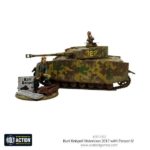 After Lt. Winters in 2014, a Redcoat from Waterloo in 2015, Harry Flashman in 2016 and this year, for the 100th anniversary of tanks in 2017 - the german tank Ace Kurt Knispel.
Warlord Games offered Knispel as a single miniature or in bundle with a tank. To be honest, 10 GBP was a rather high price for a single miniature, especially with the 5 GBP prices of the past. The bundles with a tank were a better bargain, so I went with the Tiger II, but wrote customer service a short e-Mail if they could swap it for one without zimmerit. And as awesome as I know the customer service, the responded promptly and took care of that. As you can see from the picture, they even added an Issue of Wargames Illustrated to the order.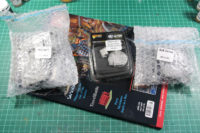 I had a bit of bad luck with the tanks. As with the Comet - I have a weakness for british medium tanks - some of the smaller resin parts broke off. But nothing I'm not able to fix. Just have to make sure, I won't loose them in the meantime. And quite bend tracks with the Tiger II. This is going to be something for the hot water bath. But other than that, good casts, no bubbles, no inclusions or half casted parts.
But let's get back to the main act, Mr. Knispel. It is a three part vignette, with a large base, an ammunition box with a sign on the other side and the man himself. Casting is properly done and you don't need instructions to build him. I could see myself magnetising his right foot to the base and make it possible to swap him into the turret of a tank. You can find the rules for using Kurt Knispel in Bolt Action in the Tank War supplement.
Beside that, I'm currently busing taking care of the pictures I took in New Zealand, to show you my coverage on Hobbiton and the War Museums soon.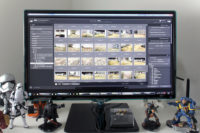 So what's next? I'm on a few reviews on tank kits, by Rubicon and Warlord Games, and a few Osprey Publishing products as well. After Knispel, I'd love to see a miniature of Otto Carius. Would be great on a Jagdtiger.
Enjoy this article?