Continuing with the coverage of Part 1 on Warhammer Fest Europe 2018, the main venue was a two story hall with a large store, covering products of the main range along with Black Library, Forge World and Warhammer World exclusives. The glass cabinets of the Golden Demon painting competition started to fill up slowly.
This weekend, on Saturday and Sunday, was the first time for Warhammer Fest Europe to open. It is a new event following in the steps of the former Games Days. Games Days in Germany were held in Cologne at the Gürzenich and the new event uses the convention area of the Maritim Hotel Düsseldorf, right next to the Düsseldorf Airport (DUS).
Parking was not a logistical problem, as there were plenty parking lots around the Hotel and the airport area. At rates of 3,50 EUR per hour they weren't exactly cheap. But the airport brought for those who didn't travel by car a couple of benefits. The visitors were quite international, so they had an easy way to get there by plane from the UK, France, Italy or Spain (and from what our readers told me, even Australia!), and for the "locals" of North Rhine Westphalia, the state has superb local service by train and bus.
With the Warhammer Fest Europe returns the former Games Day in a new form to Germany. But not like in the past events to Cologne, but to Duesseldorf.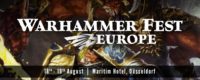 On the 18th and 19th August 2018, so the coming weekend, Warhammer Fest Europe will be held on the European mainland. The Warhammer Community page covered the Warhammer Fest UK in an extensive post over here: Warhammer Fest Live Blog.
Why am I looking forward to the Warhammer Fest? For that, we have to first take a look back to the years of 2008 'til 2010, the last times I was to Games Day Germany in the famous Guerzenich. Imagine entering the grim dark world of Warhammer in a gothic building, in the heart of the old town of Cologne.
The new venue for Warhammer Fest Europe is the Maritim Hotel in Duesseldorf, so there will be plenty of room and parking (which was kind of a problem at the Guerzenich). You could even get there by plane due to the proximity to the airport, if you wanted to. Just make sure you land at Duesseldorf Airport (DUS) and not "Duesseldorf" Weeze (NRN).