Doing some errants after work. Just took delivery of my latest order. No nothing tabletop related, well, not directly. A new lense for my Canon, the EF 50mm f/1.8 II. Quite a plastic bomber, but well we will see what it brings.
But let's get back to the wargaming topic. First announcement, I'll be participating at the Worlds 2014 (historical wargaming world championship) Saga Tournament, as a stand in player at least for the first day. Looking forward to it.
I did order a small package at Warlord Games during the historicon, to buy one Dick Winters which was available for a limited time. But i didn't want to put the shipping costs to waste, so i added  a little something to the order. The stone walls, Patton, a SAS section, some wehrmacht bits and a squad of wehrmacht soldiers with IR rifles.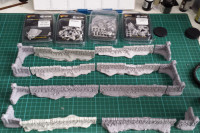 The walls are quite sturdy, but they lack variation. I received at both sets only 2 designs, and the online shop shows a bit more variety. Beside that, the casts at the bottom are rather large and might take some time to be filed down. But, the metal casting is satisfying, even though one of the SAS rifles was broken and will be pain in the ass to fix. Other than that, the order arrived quite fast from UK to Germany, thumbs up for that!
I fell in love with the 1st Corps Interwar Vehicles some time ago and told myself, if i see a good deal buying them, i'll do so. And what can i say, i remembered that thought and a day later i saw an offering over at Lead Adventure. Very nice kits and charming design. What not to like? So i gave them, along with some other resin kits i bought lately a good bath in warm soapy water.
But what's with the Interwar Kits and some of the strange troops that i bought in the last year from World War 1, 2 and in between ranges? Well, that is a long story. The "Very british civil war" is a very interesting setting, and i like the What-would-be / Pulp Mix of that. But due to lack of britishness, there isn't that strong of a connection to the setting (If you like it, go for their VBCW board). So one day, sitting on the balcony and enjoying a beer with one of my mates, we had the idea of some "very german civil war", or how we are going to call it S.I.E.G. (german for victory), short for Stabilität in ernster Gefahr (stability in serious danger). This is not the worst description for what was going on in Germany between 1918 and 1935. You could use the miniatures with Back and Beyond Settings, as well as some other Expedition things, or even VBCW itself as some german Auxiliaries. But our main idea is writing our own Bolt Action supplement, covering the different troops for this setting. With Sailors, ex-Soldiers, Militias, Miners from the Ruhrgebiet, Separatists and Football-Hooligans among others.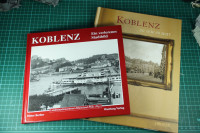 And to get more information about the local situation on the years 1914-1945 i bought two books about Koblenz at our local book dealer Reuffel, which will be helpful for Terrain Building, Ressources and other stuff. We will see. So, but now i have to read the Saga Rules to be a rightful participant for a Tournament. Oh and i might join the 18 Miniatures in 3 Month Project at Tabletop World.
Enjoy this article?