Two times per year the BitBox opens its doors in Mülheim an der Ruhr. So for the 7th time in total and the first time this year, it was time for the biggest tabletop flea market in Germany.
There are quite a lot parking lots around, so no fear about that. Though the doors would open at regular 11 am, the hall was already crowded.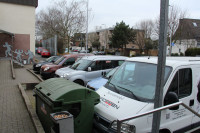 It was really busy in the early hours, first bargains and deals were made. I even saw the first bringing huge loads of wargaming boxes to their cars, when i arrived at 10:30 am. Early bird and such ... you know the drill.
Beside Andy in the last picture, being happy about making some room and money for new money, you can see, one of the visitors did not only get the agreement of his better half, she even lends a hand carrying the loot.
Beside some rarities, limited editions and odd stuff, you could get loads of Warhammer stuff. Some of it even sealed and untouched. The prices varied between real bargains and ... well, let's not talk about it.
And of course pirate ships! As well as Freebooter Demorounds, as the Bitbox is hosted by Franz Sander from the Freebooter Crew.
The enclosed bistro took care of drinks and snacks, cheap prices and good service, what could you want more?
Stronghold Terrain had their booth as always at the Bitbox and offered beside their terrain range some Saga Novelties, like these two charismatic leaders.
If you really thought i could withstand such an event, without treating myself (well beside a very enjoyable ride in my car), think again. I got some good prices on these must haves and interests buys, so say welcome to Ragnar Lodbrok, Finecast Golfag, foamterrain from GW/Ziterdes and a missing Soldier for my Inq Collection.
So what next? Well, in autumn is the next BitBox. See you there. Was a fun day, many familiar faces, nice talks and there are worse way of spending a sunday 😉
Enjoy this article?