Everything is changing. Gone are the days of armies mostly made from metal and resin. Due to companies like the Perrys, Warlord Games or Gripping Beast plastic has arrived in historical wargaming as well, and it doesn't stop at puny little foot soldiers. Nowadays you even get 28mm and 15mm vehicles made from plastic and along with this, comes a phenomena that already bothers me with the infantry - the weight. Plastic gives you a lot of miniatures for small money - usually. But due to the lack of weigh, there is something missing. They somehow feel less worthy / valuable and can be pain to play with in some gaming situation (a.e. hills).
With infantry you can trick around, using washers or excessive base designs to weigh them down. But with vehicle kits it is a bit different. I stumbled around this idea in model kit forums, as they tend to use fishing lead to weigh their kits. Fishing lead is round-ish, usually comes in small portions and for some reason may be difficult to acquire due to that whole lead may be poison stuff. So i found something different, balancing weights for wheels. The whole box with 6 kg of self-adhesive 5g pieces just cost 20 euros. Bargain!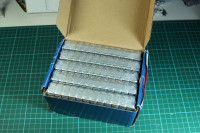 Each strip weighs 60g, which is quite a lot for this scale. I aimed for 30g of additional weigh to a tank. With the shermans it is quite easy to handle, just dismount the turret, you have a large turret hole and glue 6 of the pieces in there. Mount the turret again and you got a nice handling sherman without much of a hassle.
As with the Panzer IV, i should have added those while building, so they would be hidden in the chassis, as the turret ring is to small to fit them in there. I attached the weighs to the underside and as you can see in the third picture, you can't see any of the underbody.
I have to say, i am happy with the result and will include the lead with the next builds directly in the building process and hide them away in the chassis. Hope you like it and maybe can use this idea for your own projects.
Enjoy this article?