This week LIDL has an offer on art products (brushes, frames etc.) and i got these sets of brushes for 3 euros each. Those are always a good choice for terrain or larger kits. Beside that, i am currently giving a bit of painting a try, as i need some motives for the living room, but can't find the right thing.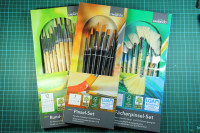 Another box i bought a few weeks ago on ebay, ~ 7 kilos of fans and coolers in different sizes. Do they work? Do i care? Those are going to be used as terrain pieces for industrial buildings. So if you need one, or two or four drop me a message.
While working with wood, mdf and resin, it is important to keep an eye on your health. For that reason i upgraded my tools, and got myself respiratory protection. I was looking for a model by 3M, but they didn't stock them at our local DIY store, so i went with this one. And why do you want to wear a mask while working with mdf, resin etc.? Look at that fine dust, you don't want that stuck in your lungs.
Stay safe and good luck!
Enjoy this article?