The Guild of Fantay-Role players hostes annually the FeenCon in the civic center of Bad-Godesberg near Bonn. Especially among role players the event enjoys a good reputation, so the crowded parking lot is no wonder.
Next the colourful role play rounds you'll find several shops from the Rhineland, from comic and roleplay stores to merchandise and even a mead trader. In total the offers of the traders were not as full than the years bevor.
Wargaming can be found at the FeenCon, but with fluctuating presence. And on top, there are different focus in Bonn, so you won't find the usual Warhammer tables, but Battletech and Full Thrust. Depending on who Ulisses can motivate, there are Warmachine und Infinty tables as well, and back when it was still around - Schicksalspfade was represented.
In the area, that was taken care by the Heidelberger Spieleverlag in the last years, were more wargamer and even a few painters.
The civic centre has a small yard, that was used by the gamers, to make the best use of the weather. The large hall wasn't as crowded as it used to be, but the regular Playmobil wargame was there and the Bonner Tabletop Community as well. Around that were the bring & buy, several publishers and artists.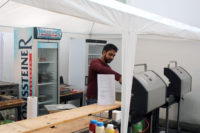 In the last year, the event was on the hotest day of the year. But the outside area and drinking booth covered that problem. There was a larger tent for playing outside, a few smaller booth and "outposts" from several LARP clubs. And on top of that, there are now a regular Nerfgun event and Jugger matches.
The FeenCon is strongly connected with other events around role playing and fantasy in Germany, therefore the content of the goodie bags contains flyers to some of the following events:
RatCon, Limburg - 26. - 28.08.2016
Bielefeld Rollenspiel Convention, Bielefeld-Sennestadt - 01. - 03.10.2016
Brain & Dice, Heidelberg - 01. - 02.10.2016
Battlecon XVI, Hann. Mündeln - Hemeln, 28. - 30.04.2017
The GfR puts a lot of effort into the event, and who is down with the program, fits right in. For wargamer it is a bit of niche, with some points that you either like or don't. But for role players, who players smaller or rarer systems, this is one of the must visits.
Link: FeenCon
Enjoy this article?