Salute began early for us, after the day-trip to Nottingham, we we're ready and waiting at 7 a.m. at Cambridge Station.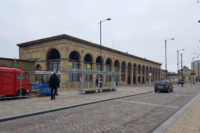 Taking the Great Northern towards London, we had some time on our hand. It takes roughly an hour and gets you to Kings Cross without a stop. Spending that time on going through our "what-to-see", "what-to-try" and "what-to-buy" lists again and playing a match of Condottiere. Perfect size for the train.
After arriving in London we only had to get on the Circle Lane until Tower Hill, where we jumped on the DLR, that brought us to our destination - ExCel London, where Salute is annually hosted.
Just after 9 a.m. we are at N7, the entrance to the show. Getting a brief glimpse into the hall. Seeing busy people unloading boxes, fixing their booths and placing last miniatures on their participation tables. We were quite in the front of the queue. But never the less, we still had to wait till 10 a.m. for the show to officially begin.
The number of visitors is capped at 5,000 people at Salute. But it went very organised as the crowd spread well over the large hall. Beside the familiar companies, you have your "usual suspects", like the Blood Angel Space Marine, who was at last years Crisis as well. One of the reasons, the crowd spread out better than last year, was that the hosts removed a whole lane of traders, giving the rows in between more space and making it easier for the visitors to move between gaming tables and booths.
As 2018 is the 100th anniversary of the end of World War One, this was the topic of the show - Lest we forget. You got the trio of a British, French and German soldier as the show exclusive event miniature, and they even topped it off with a british world war Tank (but I have to be honest, I'm not sure if it is a replica, as I can't really map the Mark variant of this tank, it seems to short for any of the MK I to V).
There was a resting area and a painting area for the visitors as well.
The South London Warlords had their central booth as usual, with lots of merchandise (t-shirts, dice, cups, older event miniatures) and at more than reasonable prices. You could easily fill up on your hand luggage just at this booth, so be careful!
Right behind the booth, is the area for the painting competition. Lots of pictures were taken and people queueing to take a look into the cabinets, maybe spotting the later declared winners. You can see last years winners here.
The painting competition and games awards (for best participation games / tables) where matched the World War One setting.
I'll cover the gaming tables in a seperate article, but I can't keep them entirely out of this one. There was a tank battle with Cobi kits (a polish company offering Lego-like tank kits) on a kids play matt, and the Bexley Reapers Wargaming Club with a very funny interpretation of a Zombie game, they made a Salute table, with the show hall being overrun by Zombies. But the survivors had to make sure, not only to survive, but to rescue their haul as well. Look at those tiny tables. Incredibly funny and well done!
Of course wargaming press was at Salute as well. With Beasts of War running around, covering all kinds of things for their videos, they went without a large booth this time. But the magazines of Wargames Illustrated and Wargames Soldiers & Strategies were there. WI sold their Giants in Miniature ranges, giving away the druid on every purchase of more than 10 GBP along with some pre-releases, and you had the chance to talk to Guy Bowers at WSS about some of his latest work or on wargaming in general.
And you couldn't go to a wargaming event nowadays without having some crowdfunding advertised to you. But beside the really large ones, there were some smaller campaigns as well. For example Anvil Industry showed off their 10-up of a battle sister from the just started (and already financed) Kickstarter campaign of the Daughters of the Burning Rose.
As the "men of the house", the Warlords of course didn't miss out on the opportunity to host their own participation round. As they already had done a couple of trench world war one tables in the past (for example on my first Crisis in 2011), they went a Crusades table this year. Using the Sword & Spear rules (available through Great Escape Games). That castle on the side of the table is a mixture of the old Warhammer Fantasy fortress and some Renedra towers.
At 1 p.m., the show was still going strong with the crowd standing around booths and tables. Some used the exhibitions hall way for a short rest or to grab something to eat.
The release of Star Wars Legions drew the attention of the UK Garrison, and the UK Garrison drew the attention of the Merc with a Mouth.
Around 2 p.m., after filling up our bags with haul, draining our wallets and having talked to a lot of wargamers, we headed over to the fox pub near ExCel, to meet up with some of UK finest wargamers. But everything that happened after leaving Salute, is something for the outro article.
What can I say? I'll cover the traders and gaming tables in seperate articles, like mentioned before. But the Warlords have done a great job as hosts. ExCel is a superb location for this show, the hall was well ventilated, maybe a bit poorly lit. The different food shops along the hallway give you a broad choice of snacks and meals. And London has great public transport, which made the whole trip a quite easy. We were 100 km / 60 miles away from the exhibition and made it there by just using the public transport. If I'll manage to make it to Tactica next year, there is no way for me to get to the show in a proper way without using a taxi or rental, if I'd travel there by plane, train or flix coach. So that is just amazing. Last time we went with a rental to the show, but with a parking fee of 20 GBP and limiting us after the show, that was no option this year.
Other than that, the traders were well prepared, got some great deals and every item I pre-ordered I could pick up and sometimes even got a goodie with it. Actually, we agreed after this experience, that we're going to take GBP with us on the next Crisis to get proper prices from the UK traders / shops. We had a great time at the show, but let me show you what we saw in the next articles on the traders and participation rounds, as well as my concluding haul post.
Enjoy this article?