Around the Spiel toy fair Freebooter Miniatures released the second edition of their pirate skirmish, Freebooters Fate. If you have visited Freebooter at shows in the past, you know it is always worth a visit. The crew is dressed like sailors and pirates, they have treats (chocolate gold coins, gummy bears and such) and often enough special show offers.
As this was a huge release, with the updated core game, they brought along new gaming tables, featuring a lot of the now combined rules. The new edition rulebook features a lot of rules, that were spread across multiple books in the past.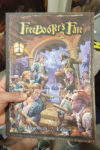 One of the show specials was that you could buy all of the old books for 30 EUR combined. As I already owned quite a couple from the first edition, I didn't jump on the offer at that time. But I noted that they continued the offer on the old stock on the website. The old books are between 4 to 6 EUR and I closed on some gaps I had in my collection.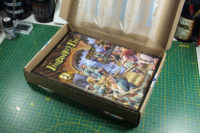 So for a total of below 20 EUR, I got Tales of Longfall #2 to #4 and the larger books of Deep Jungle and Raging Rivers, and completed the set of books from the first edition.
But why do I want the old books? First of all, they are lovely made, nice artwork and they fill in the gaps in the story line. And beside that, nothing wrong about having some old books. I have a broad collection of different rulebooks and supplements. They are nice for reference, inspiration and still valid rules.
That brings me to another point, you might be familiar with the Bitbox, a tabletop bring & buy / flea market. Next one will be in spring, but there will be the Puppen Shop(p)en between the holidays on december 30th. It will be hosted in Oberhausen, next to the Centro shopping mall. Here's the link to the facebook event - 1. Puppen Shop(p)en.
Enjoy this article?