The german miniature studio Hagen Miniatures has a diverse range of historical miniatures, among them a range of Napoleonic ships in 1:700th scale, fitting for among other systems Black Seas.
They were kind enough to send me some of their vessels, so we can take a closer look at them. Andy send me a cutter, a ketch and a schooner. The models come in a small ziplock bag and are casted from pewter. Please note, the vessels all come without sails, you'll need to cut our your own from paper or thin plastic card.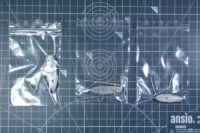 Let's start with the cutter, it consists out of the hull and a mast with two booms, and costs 3,80 EUR. Assembly is easy and fast, you don't need an instruction for this, simply glue the mast to the hull.
Cutters were general small to medium sized vessels, usually with a single mast, build for speed rather than capacity. Mostly workboats back then, they were used by privateers, but the military and harbor pilots as well. So if you're looking for a freebooter or pirate fleet, this might be an interesting addition.
You can find the rules for cutters in Black Seas on pg. 73 among the unrated ships.
Casting is very clean. Only minor mould lines to remove and the mast was added with a small drop of super glue.
The second ship is a ketch. It is a three part kit, with a hull and two masts, both with two bows. A ketch costs 4,90 EUR at Hagen Miniatures.
A ketch is a two-masted sailboat, and its name is derived from catch. During the 1700s this ship class was replaced more and more by schooners.
The ketch is listed as a bomb ketch in Black Seas on pg. 73 among the unrated ships.
Once more, clean castings and minor work to put into. Just a bit of putty along with super glue for the masts to firmly set in the hull.
The third and last ship of this review is the schooner. It is 4,90 EUR and comes with a hull, two masts, individual booms and a bow.
A schooner is a type of sailing vessel, that comes in different variants, for example as a two-masted schooner, and can be gaff or top-sailed. This variant offered by Hagen Miniatures is a two-masted top-sailed schooner. The origins of the schooner is unclear, but the name appeared first on the eastcoast of North America in early 1700s, and became in the areas of New England and Atlantic Canada popular for coastal trade, as the ship required a smaller crew compared to other ships of its size and still was fast and versatile.
You can find the rules for schooners in Black Seas on pg. 73 among the unrated ships.
The smaller pieces are quite delicate and you'll need a steady hand to glue them in place. I needed a bit of modelling putty to support the connections, as I didn't want to drown them in glue. But beyond that, proper cast and amount of details.
To give you an idea of the size of these vessels, here's a comparison with a brigg and frigate from the Black Seas main range.
Conclusion
It is a great thing, to have multiple manufacturers for a range or conflict. Especially as Hagen Miniatures focuses on the niche ships and more specialised vessels, that we might not see by Warlord Games. Beyond the three we've seen here today, Hagen Miniatures has a lot more ships in the 1:700th scale to offer. There are among others small and large Xebecs, gunboats with different rigging / sails and even a sloop of war. The range is especially interesting for those, who want to build up a fleet, not belonging to the four major nations of the conflict, or are more focused on freebooters or privateer captains.
The amount of detail is well done and the casting is on a high level. The only thing that I'd like to see and is currently missing, would be a template for the sails. They wouldn't need to put them with the kits, but a pdf or something to download and print out myself would go a long way.
But that's not all, they have an assortment of accessoires and terrain as well, from jettys, to individual guns or towers to add to your gaming table. The prices for the individual ships are reasonable and so is shipping with the German Post, even for international customers.
The reviewed product item was provided by the manufacturer.
Enjoy this article?