Let's get ready for the remaining two miniatures of the summer project. These do not actually belong to the Hooves and Fur project and are "just padding" to have 18 miniatures for the challenge (18 miniatures in 3 months).
As you can see from my first post on these two, I went for regular Ungors from the Middlehammer Beastman range. Both were sculpted by Alan Perry.
I went for the regular black primer along with a stronger white dry brush to pick up the details and have better orientation on the model.
Clothes - Army Painter Alien Purple WP1128 and AP Angel Green WP1112
Skin - Army Painter Tanned Flesh WP1127
Fur - Vallejo Game Colour 72.042 Parasite Brown / Piel de Parasitos
Wood, weaponry and bases I did the same way as the other beastmen.
I went for two different types of washes and let that dry for a proper night.
Light colours with Army Painter Soft Tone WP1134
Dark colours with Army Painter Strong Tone WP1135
I picked up the base colours for some first highlights. And then went on for second highlights
Skin - Army Painter Barbarian Flesh
Clothes - Army Painter 50+50 Alien Purple / Necrotic Flesh
Wood - Leather Brown WP1123
Black Lining Dark Tone
And for the third highlight I mixed in Off White or Necrotic Flesh into the base colours.
In the last step, before finishing the base (grass and black trim), I added the pustular wounds with a dot of AP Pure Red WP1104, Vallejo Game Color 72006 Amarilla Soleado / Sun Yellow, blended it with AP Basilisk Brown WP1405 and a dip of AP Warpaint Ink Purple Tone WP1140.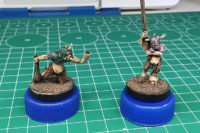 There we are, the finishing line just minutes ahead.
Enjoy this article?