I have finished the first and second block of Hooves and Fur, and now going for the third and final batch of beastmen.
As the scope of the warband was defined and set to 16 miniatures, I need two more to tackle the summer project challenge of 18 miniatures in 3 months. So set this project into perspective, the beastmen are the undivided part of my greater Realm of Chaos project, which covers a mixed warband for each of the four chaos gods. Mixed meaning, not only covering chaos warriors, but all kinds of servants of the dark gods. Unfortunately there are only a few proper banner men for the mortal chaos, so I had to be creative about this.
And I thought, that two ungors would be a good fit for the Nurgle warband, as a banner bearer and musician. But I couldn't keep them like this. So after preparing the miniatures, taking care of the mould lines and putting them on a base, I went on to prepare a conversion.
I looked at several ressources, like the old Realm of Chaos Pestigors artwork and the "newer" Pestigor models from the 7th/8th edition, along with the magnificent Putrid Blightkings kit for inspiration. Of course having the Underworlds Wurmspat here, as well as the Nurgle Rotters was helpful too, but I don't like the Pestigor from the Blood Bowl Team that much.
I didn't want to cut up the miniatures, but do a conversion based upon sculpting. I bought a Clay Shaper a while back at Battlefield Berlin, and some sculpting tools (you can use the ones from Army Painter or Warlord Games), along with P3 modeling putty. Which would be the main tools be used for this.
Most important would be the hanging belly, as this bloated feature is something that almost all of Nurgle childrens share. And I wanted to recreate the gout leg of the Putrid Blightking on the ungor banner bearer. The Pestigors have cloaks hiding their deformities and faces, so that would be something that I wanted to add as well.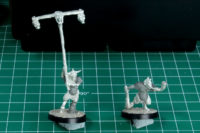 After letting the first layer set, I added further details in the grey modelling clay. Mostly the cowls, and a bit of fat to the arms as well. The horn blower received a uni-horn as well, where as the banner bearer got a phantom-of-the-opera half-cowl.
I am quite happy with the result, I think it adds to their role as Pesti-Ungors in the not-yet-named Nurgle warband. I looked up some tutorials on painting nurgle flesh, as these guys are not going to get the same treatment paintwise as the Hooves and Fur warband.
Enjoy this article?