The bases are done, the shields glued to the ungor skirmishers - I can call block #2 for the summer project ready and done! Another 6 beastmen for the Hooves and Fur warband finished.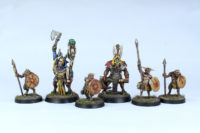 I had to trim the grass on some of the rims, as I applied it a bit to close to the edge. The two characters were the most time consuming part of this block, as they have a lot of details that needed to be taken care of. I'm not that happy about how the shrunken heads came along, maybe I need to add some more fleshy highlights to them at some point.
As for the freehands, I think there is still room for improvement, but the weathering on the shields creates a final result I can live with.
Four ungors, a shaman and another champion in front of the backdrop.
And finished part of the warband incl. the first batch.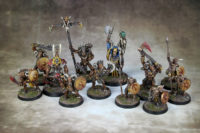 That went well, finished the second block still in the time budget for the first one, so that gives me over two months to finish the third one. But I don't intend to use up that budget, but you'll see. And I already have a plan to stay in the painting mood beyond that, but I want keep my focus on finishing this project first.
Enjoy this article?