To finalize the review series on the Zone Mortalis, after covering the Columns and Walls as well as the Gang Stronghold, we look closer into the accessoires set - Platforms and Stairs.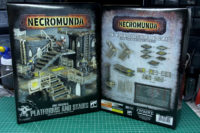 With spicy price tag of 50 EUR it is important to know what it brings to the table, literally. We have two different sprues, each two times included in this set. It is important to note, that this is barely a stand-alone and it requires at least the Columns and Walls kit to make the most out of it.
The most recent addition to the Zone Mortalis, is the Necromunda Gang Stronghold. Quite the boxed set for the Underhive, giving your gang a spot to hide out, defend and retreat to.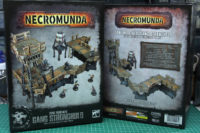 But this is not just a repurposed set of sprues from the Zone Mortalis, but a whole new set of sprues and parts to add to your Zone Mortalis. And not just walls and platforms either at 70 EUR, but two towers (a lookout tower and a water tank) as well.
While a lot of attention goes towards the new Blood Bowl release, I set up the coverage on the Zone Mortalis terrain range, introduced to support the Necromunda skirmish game.
There were two plastic kits introduced in the beginning, that replaced the massive resin tiles of the same name by Forge World from 2003, the Columns and Walls and the floor tile sets.