To finalize the review series on the Zone Mortalis, after covering the Columns and Walls as well as the Gang Stronghold, we look closer into the accessoires set - Platforms and Stairs.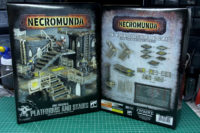 With spicy price tag of 50 EUR it is important to know what it brings to the table, literally. We have two different sprues, each two times included in this set. It is important to note, that this is barely a stand-alone and it requires at least the Columns and Walls kit to make the most out of it.
The assembly instructions are quite helpful, as they do not only cover the parts but some ideas for combining them with other Zone Mortalis kits.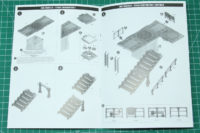 As mentioned above, this kit covers two different sprues, covering mostly platforms, and a few ladders and stairs. Each of these sprues is included twice, so you get quite a load of bits. The casting is well done, with low amount of mould lines. And due to the non-organic design, these are quite easy to get rid off.
These platforms, roofs and walkways are included twice. You get multiple designs, a three wide to combine a column with a wall section left and right, a new topper for the columns, three connectors to columns and walls, three l-shape and a t-shape design of walkways to either go free or on top of walls. As you can see the undersides differ, the large octagon fits ontop of the columns, some have two stripes to guide the wall sections and others are blank to be flexible. As you can see they either connect with two different designs of slots.
You'll remember that I pointed out to not glue the roofs / lids ontop of the walls or columns. And here's why. The platforms go ontop of those. Where as they simply overlay the walls, the roof of the columns needs to be swapped. Beneath them not only the wall sections fit, but the bulkheads and doors do as well.
The other platforms connect either columns or the corners from the Gang Stronghold. And as you can see the larger platforms have a similar height as the upside down lits, and make it possible to stack sections / columns on top of each other.
Two of the platform designs have round lukes in them, and can be build either open or closed. One design has slots on its underside, fitting the ladders from this kit.
There's a stairway included in this kit, and the pieces you see on this picture - as with most of the layouts - are included twice. You have a lower and upper part of the stairs and they only connect with the t-shaped floor, as this has certain slots on the underside. The stairs come with a pair of railing.
They are intended to provide linear or l-shaped way up a level. But you can use them even to cover a "problem" that I pointed out with the Vertigus kit, to provide a bridge across the pipelines.
In this kit you'll find six different kind of railing (included twice) and two ladders. These go with any of the platforms, the regular included in this one, but fit the walkways on the Gang Stronghold.
And a quite interesting piece in this kit, is the elevator. Remember, these pieces are included twice. They consists out of the lift platform, a railing, a bottom piece, a wall section and top connector.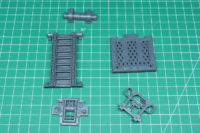 You don't need to glue the platform to the wall, it stucks there by friction. And you can even combine two of the sections to move over more than one level.
A bit of mix and match of all three sets, they go quite a long way. For the sake of completion you could of course put them ontop the floor tiles. And to keep it modular, I only assembly small modules and re-arrange them by need.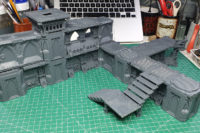 Conclusion
50 EUR is not cheap, it turns into 12,50 EUR per sprue and if you keep in mind, that most of the things that you have seen above are included twice, is quite value. I think this kit works best at a 1 to 2 ratio with the columns and walls. With that in mind a smaller Zone Mortalis setup starts around 180 EUR RRP, so keeping an eye out on the Necromunda Dark Uprising starter set makes sense. Even multiple ones, as you probably want to build a bit of a more dense battlefield for your games.
It is a good and versatile mix, as you get a lot of features that not only provide cover, but add more heights and function to your underhive. With the hint towards the Dark Uprising starter, a terrain only boxed set (a proper one, not the OOP Underhive) would be great, as I can see the demand for those with the more involved gamers.
Owen Patton, the designer of this kit, covered a couple of combination ideas on twitter, as well as on Warhammer Community; Tipps from the Underhive Architect.
Warhammer 40,000 and Necromunda are a brands by Games Workshop.
The reviewed product item was provided by the manufacturer.
Enjoy this article?