There's new about the Sisters of Battle! Because only a few days after I found my sisters I saw a lot offered in one of the boards, that would supply me with most of the things from my wishlist and even some more blisters. That could come in handy for trades, but would mean additional work as well. We managed to agree on a trade, which wouldn't drain my monthly hobby budget and even reduce the stock (or at least wouldn't just let my lead pile grow).
Only problem, the Immolator is too new and I was missing some of the heavy and special weapons. So to get a proper overview, I went on SoLegends and consultated the codex, to see which models and units were available and what I might be missing.
Based upon these, I build an army list and wanted list to go hunting for the missing items to fill in the gaps.
Army List
Cannoness with Banner bearer
Squad of 7, Sister Superior, Hvy Bolter, Flamer
Squad of 7, Sister Superior, Hvy Flamer, Flamer
Squad of 7, Sister Superior, Multimelta, Melta
Squad of 5 Seraphim, Sister Superior, 2x flame pistols
Squad of 5 Seraphim, Sister Superior, 1x flame pistols
Squad of 10 Frateris Militia
Immolator
Uriah Jacobus
Redemptor Kyrinov
3 Priests
2 Missionaries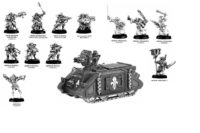 I guess, that I can get some of the regular Sisters for around 3 to 3,50 EUR. Have to make sure that the backpacks are included. The heavy and special weapons will be a bit more, I guess up to 5 EUR, same for the Seraphim (once again, make sure that the backpack is included, as getting those individually will be a pain in the neck). The priests should be available for around 3 to 5 EUR, with the missionary I am not sure, maybe a bit more for around 5 to 7 EUR. The Sister Superior I hope to get for about 6 EUR each, but the alternate poses seem to be a bit rare. May take some time. As for the tank, depending on the condition somewhere between 20 to 50 EUR. We'll see what the market offers.
The hunt is both, an active and passive process, as you can search eBay or boards for matching offers, and in addition post "WTB" posts on boards and groups, in hope to get some reasonable offers. But more on that next time.
Enjoy this article?