On the same day as the BitBox the Action was hosted once again as Re-Action in 2012 at Rheindahlen.
The location of the Rheindahlen Rooms at the British Joint Headquarters was once again a great place for a wargaming show. Lots of room, low cost catering and free entry is hard to beat.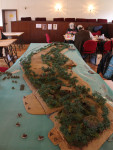 As on that weekend a couple of wargaming events overlapped, was the Action a bit less visited than the year before. But the show covered interesting tables and some treasures at the Bring & Buy. Pardulon had their demo table, that they showed last autumn at Crisis.
I really liked this Malifaux Bajou table from the Netherlands.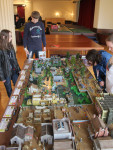 And a couple of further pictures from Rheindahlen Action 2012.
This Dystopian Wars gaming table even shows some of the new, not yet available terrain.
Games n' Dice from Düsseldorf hosted another Dystopian Wars table and we're happy to have them at the RPC on the Tabletop Demo Area as well.
And a show curiosity, a very special dragon.
A well done Flames of War table covering a battle in France.
Link: Rheindahlen Wargames
Enjoy this article?