And with this picture of the event-legends from Salute, the South London Warlords, we head over to the second part of the coverage.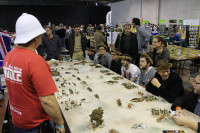 Beside the traders a lot of participation tables are the reason for the visitors to come to Crisis, so let's talk a look on a couple of them.

Incredible variety. One or the other table might be known from Action in Rheindahlen or maybe even last years show, but they were all a pleasant sight.
I didn't matter if you're looking for 15mm world war 2, 20mm / 1:72 world war one or 6mm napoleonic wars. They went across all eras and scales.
The jump from last year to this was incredible. The niveau was already above average, but this raises the yardstick even further. As an event in autumn it is a good counterpoint to Salute and we have now two large events on european level.
Link: TinSoldiers of Antwerp
Enjoy this article?