There was a lot to see for fantasy and pulp as well at Crisis, thanks to - among others - GCT Studio with Bushido and a french-polish joint booth.
Bushido had next to a properly filled show cabin two small demo tables. You can find out more on the game on
GCT Studio's website
.
Similar to the Spiel Taban and Smart Max shared a joint booth, that covered from Eden, to Smog even Ammon Miniatures. High amount of details and similar leveled prices.
There were several show specials, like the Cthulu Baby or Captain Canada.
Beside the more familiar scales of 15mm and 28mm, there were a few lesser known and used scale at the show, that I'd like to share with you.
At Adler Miniatures were 1/300th or 6mm scaled napoleonics. A lot of people call armies with this scale "rice grain armies".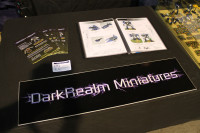 Another 6mm range, but this time sci-fi instead of historics, by Dark Realm Miniatures.
And beside dangerous and elegant aliens, a couple of classic sci-fi marines and terrain.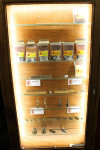 A premiere at Crisis was the novelty range of Van Dyck Models and Figurines, who showed their 10-12mm for the first time to the public.
You'll find the remaining coverage on Crisis 2012 here.
Link: Tinsoldiers of Antwerp
Enjoy this article?