Auch für Fantasy und Pulp war reichlich gesorgt auf der Crisis, dank GCT Studios Bushido und einem französisch-polnischen Gemeinschaftsstand.
Zu Bushido gab es neben einer prallgefüllten Vitrine auch zwei kompakte Demotische. Auf der Homepage von GCT Studios erfahrt Ihr mehr zu dem System.
Ähnlich wie auch schon auf der Spiel gab es von Taban und Smart Max einen Gemeinschaftsstand, der von Eden, über SMOG bis hin zu Ammon Miniatures einiges dabei hatte. Hoher Detailgrad und entsprechende Preise halten sich hier die Waage.
Es gab verschiedene Messespecials wie das Cthulu Baby oder Captain Canada.
Neben den bekannteren 15mm und 28mm Maßstäben gab es auch ein paar für den "Mainstream" unbekanntere Maßstäbe, die uns auf der Crisis aufgefallen sind und wir mit euch teilen möchten.
Bei Adler Miniatures gibt es 1:300 bzw. 6mm große Napoleonen. In dem Maßstab spricht man auch scherzhaft von der Reiskornarmee.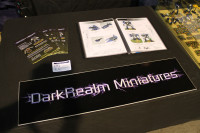 Ebenfalls 6mm, aber Sci-Fi anstelle historischer Range, sind die Miniaturen von Dark Realm Miniatures.
Neben gefährlichen Aliens über elegante Außerirdische gibt es auch klassische Sci-Fi Marines und Gelände.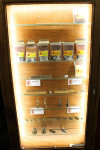 Eine Premiere gab es natürlich auch auf der Crisis, so stellte sich Van Dyck Models and Figurines zum ersten Mal einem größeren Publikum mit ihren 10-12mm Modellen.
Die restliche Berichterstattung zur Crisis 2012 findet ihr hier.
Link: Tinsoldiers of Antwerp
hat dir dieser Artikel gefallen?